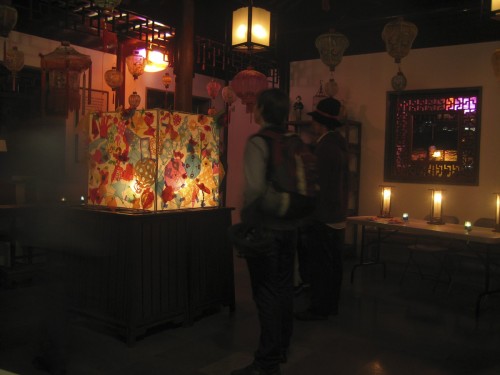 Everyone is welcome to participate in this year's Winter Solstice lantern festival celebration at Dr Sun Yat-Sen Classical Chinese Garden. We will once again have our giant community white-cube lantern at the event ready to be decorated by visitors. Please stop by and contribute to make it even more beautiful this year.
This year we invite you to our Eco-Arts Salon at the Garden on Tuesday, December 11 to work with lantern artist Jacquie Rolston to create a snake lantern structure that will be added to at the Winter Solstice and then involved with the Lunar New Year Parade.
In 2011, our Community Eco-Artist, Haruko Okana installed have her participatory shrine "The Lightness of Hope" on site to contribute to. There will be live music and lanterns created by several local artists- a dazzling display to wander though in the garden's meandering pathways.
The event will take place on December 21 from 6:00-10:00 pm.  See the Secret Lantern Society's site for details!
For those who would like to join in the lantern procession, there are several workshops held before the event all over the city. This includes the Strathcona Community Centre and at the Dr. Sun Yat-Sen Classical Chinese Garden.
Locations:
Strathcona Community Centre, 601 Keefer St.
Dr Sun Yat-Sen Classical Chinese Garden, Hall of One Hundred Rivers, 578 Carrall St.