Discover the inspiring projects previously supported by the Community Arts Fund. To view, click on the desired year below or simply scroll down to explore these creative endeavours in detail.

A celebration of the past and a look to the future: 40 years of the Carnegie Learning Centre
This project will celebrate the 40-year history of the Carnegie Learning Centre.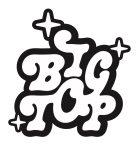 BIG TOP Art Tent
This project is a community arts initiative that seeks to bring art making and education to marginalized populations in the Downtown Eastside (DTES) through a supportive, all-inclusive, and accessible environment.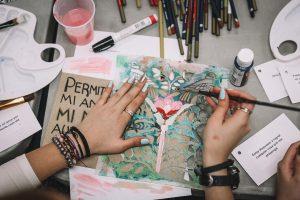 Exploring Perceptions Latino-Canadian identities in Vancouver through art
Participants will share stories of identity, acquire skills in Painting and creative writing to share their story and what it means to be someone of dual identities.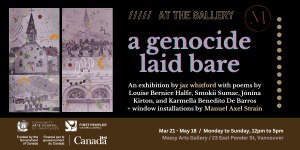 Parsing Genocide
This project creates a dialogue between the work of emerging Secwe̓pemc & Scottish interdisciplinary artist, Jaz Whitford, and local Indigenous authors, and Indigenous youth, through the creation of ekphrastic poetry.

Squeak! (Community Stories from a DTES neighbourhood) – presented by Ray-Cam Community Association
The Squeak! Community Stories Project will include support from a writing coach to facilitate reflections and insights from the members across diverse ethnicities and cultures.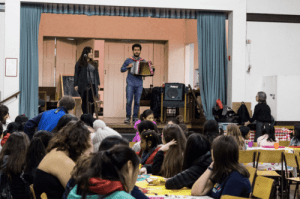 The Great Accordion Journey
This project provides an enriching and intensive experience for youth at St James Music Academy to participate in the music and story of the accordion.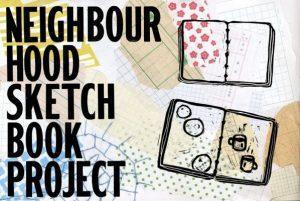 Create and Share Community Sketchbook Project & Exhibit
Gallery Gachet and WePress will bring together 40 diverse participants from Downtown Eastside organizations, connect them with professional artists to make sketchbooks and share their work and stories at a public exhibition and art opening.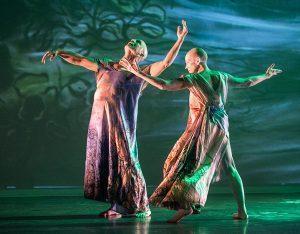 BREATH-ahhh
A project that features the artistic strengths of deaf artists, featuring a performance that explore the nature of breath relying heavily on movement, choreographed dance, imagistic gestures, and a self created/expressed soundscape.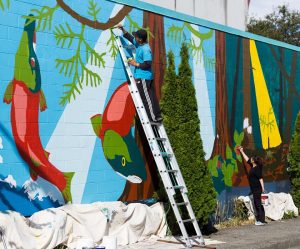 Nest Community Mural 2.0 - A Sequel to a Collaborative Effort
A large-scale outdoor mural, with the intention of enhancing leadership skills in the participating individuals.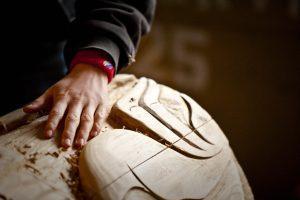 Downtown Eastside Sacred Circle Society Survivor's Totem Pole (Phase 4): Final Carving, Community Painting & Witnessing Ceremony
The Survivor's Totem Pole is a multi-year grassroots community art and action project paying tribute to Salish Nations and Urban Aboriginal people impacted by racism and other forms of exclusion.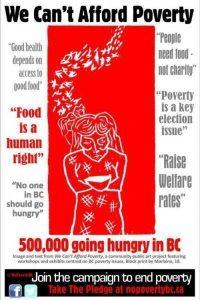 Positive Living BC Raise the Rates: We Can't Afford Poverty
A project that highlights the widening gap between rich and poor through community-driven art.
Mriyaty: A Ukrainian-Canadian Dream
Mriyaty is a multidisciplinary theatre/dance work focused on rituals and customs in the larger context of history and cultural identity informed by Ukrainian dance and folklore.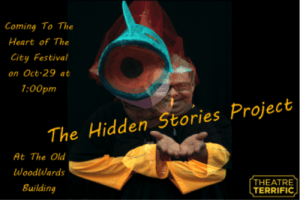 The Hidden Stories Project
Brings together members of the Indigenous community and people who live with a disability to build artistic skills, create ritual structure with guidance from an Elder, and enter into a creative process with the goal of increasing understanding of shared struggle and humanity.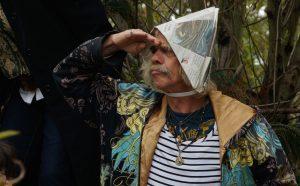 Wild Mind
A project offering theatrical workshops and performances inspired by the process of re-wilding an urban area with a core group of community participants.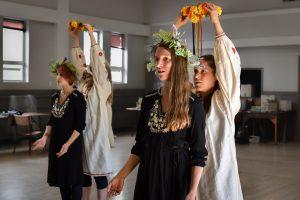 Richka
A multidisciplinary theatre/dance project focused on rituals and customs in the larger context of history and cultural identity informed by Ukrainian dance and folklore.
Take My Word For It
A series of spoken word workshops with youth to build their "voices" to comment on issues affecting their lives.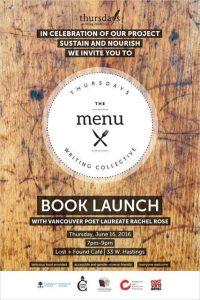 Sustain and Nourish
Sustain and Nourish investigates the connection between literature and food considering ideas related to neighbourhood-specific issues.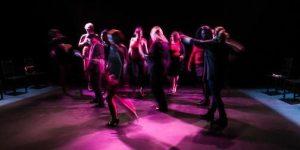 Raincity Housing and Support Society Hooker Monologues
An original theatrical production featuring the voices of people of all genders and social locations, including their allies, as they share a myriad of experience in and about the sex industry.

Underwater Chinatown: Digital Stories
Underwater Chinatown: Digital Stories includes a set of three 5-week, artist-facilitated community digital storytelling workshops focused on the space and the subaltern histories of Vancouver's Chinatown.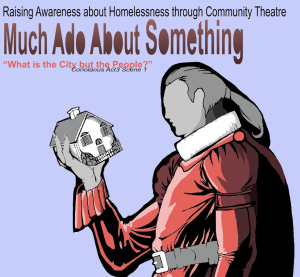 RainCity Housing and Support Society Much Ado about SOMETHING!
Raising awareness about homelessness through community theatre, this theatre project stimulated dialogue and new understandings around issues of homelessness.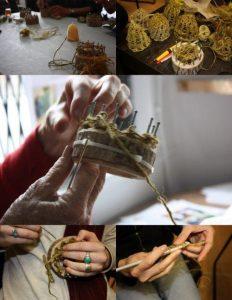 Urban Cloth Project
The project weaves together First Nations gathering traditions, early settler agricultural methods and contemporary environmental practices through shared investigations for urban cloth production.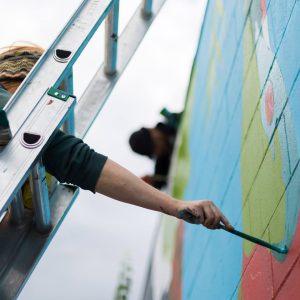 Nest Community Mural
Jacob's Well, in collaboration with Mission Possible and Servants, facilitated the creation of a large outdoor mural on the wall space of the Mikado Martial Arts Supplies Building at 701 East Hastings Street.
2014 (and earlier) Projects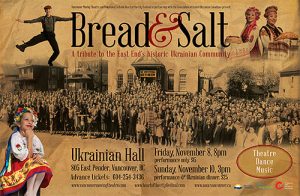 Bread and Salt
Bread and Salt is inspired by stories and memories from the East End's historic Ukrainian community. This 85th Anniversary tribute interweaves oral history with live theatre and music, haunting choral singing and the driving rhythms of Ukrainian dance.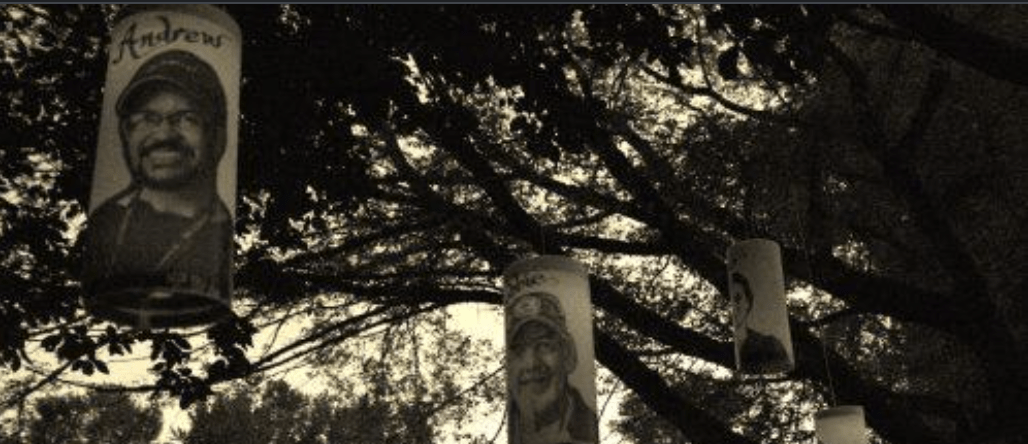 The Only Animal Out On A Limb​
An intergenerational collaboration of storytelling workshops, public presentations, and online archives on the theme of growing up and growing older for both DTES and non-DTES residents.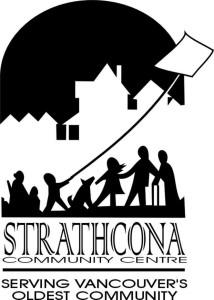 Meeting on Common Ground
A multicultural and intergenerational theatre-based project for seniors and youth where participants through the stages of story exchange, creative process, show building (including puppet and costume making), and public performance.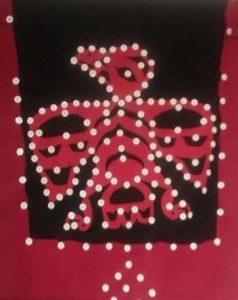 Connecting our Voices
Connecting our Voices connects professional artist mentors with participating women of the Downtown Eastside Women's Centre to create in a variety of artistic media, culminating in an participant-led multimedia arts show to be displayed at local galleries.