PAST PROJECTS:
GRANDVIEW-WOODLAND ECOART WALK
A temporary installation of citizen eco-artworks in 2018
Community Arts Council of Vancouver together with Green Streets and Britannia Community Services Centre joyfully presented our first EcoArt Walk in 2018. This pilot project invited citizen artists in Grandview-Woodland to create temporary eco-art installations in Green Streets gardens. Eco-art aims to spark dialogue, inspire caring and respect for the environment, and promote positive social action. With this project we hope to seed-bomb new relationships and civic conversations at the meeting place of people, ecology, and creativity.
Project Coordinator Bea Miller is a weaver and eco-artist, as well as educator and facilitator who works with people of all ages across Vancouver. Through outreach and workshop sessions, Bea brought potential and participating artists together to learn more about the principles and practice of eco-art, particularly around responsible gathering and use of natural materials.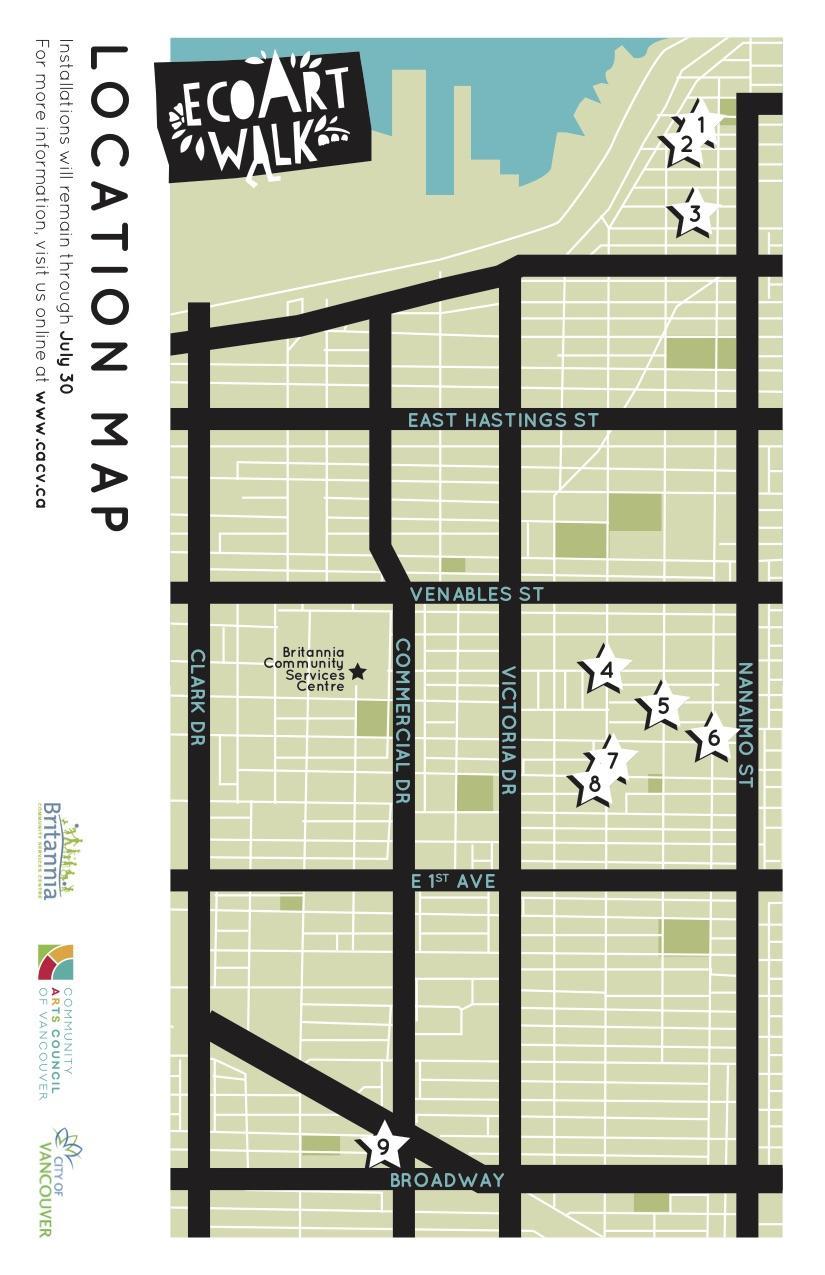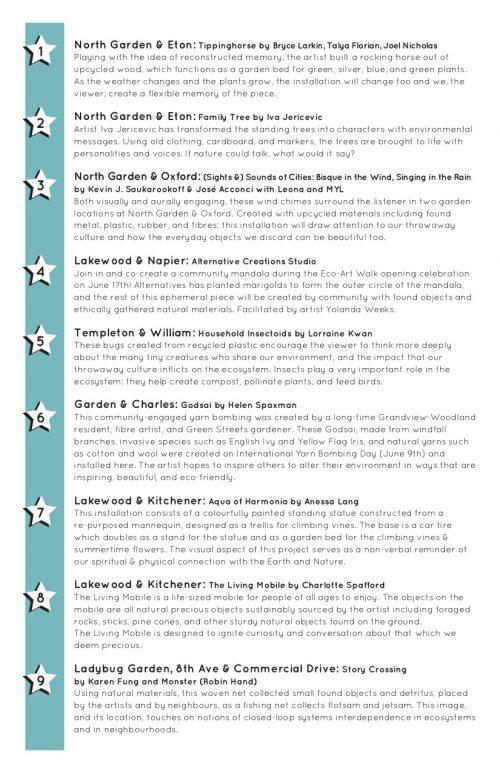 "Our greatest learning and connection often come from moments of intersecting: with other people, with spaces, and with ideas that inform our relation to the world and beings around us."
Monster and Karen Quinn Fung, EcoArt Walk Citizen Artists
"In order to be moved to take steps to improve the state of our environment, I believe we must first learn to appreciate it." Charlotte Spafford, EcoArt Walk Citizen Artist
Guided tours met at the Napier Greenway, located at Commercial Drive & Napier Street, in front of Britannia Community Services Centre. We then walked together through the Grandview-Woodland neighbourhood to share in the delight of all nine art works throughout the area.
The public enjoyed three eco-art workshops with Alternative Creations Studio, Cease Wyss, and Robin Lough! These included a found object mandala, learning about local indigenous plants, and creating a small terrarium.
June 17 – July 30, 2018
Location: Grandview-Woodland, Vancouver, BC


•  •  •  •  •  •  •  •  •  •  •  •  •  •  •  •  •  •  •  •  •  •  •  •  •  •  •  •  •  •  •  •  •
Eco-Arts Salons are events that bring together those active in creating environmental art with interested community members and  representatives of environmental/community groups interested in using art to advance their social or environmental goals. These events serve as a venue for dialogue and for people from a variety of backgrounds to connect professionally and socially.
CACV has partnered with several agencies throughout the years to take on larger-scale eco-arts projects. Some highlights include Conduit in partnership with Sun Yat-Sen Classical Chinese Garden and Stanley Park Environmental Art Project in partnership with Vancouver Parks Board and Stanley Park Ecology Society in 2006.