These community-building events at the Annex will return in February 2024. Event dates, performers, and special guests will be announced in the coming months.
All performances from the event series at the Anex are now available on our YouTube channel:
PAST EVENTS
February 18, 2023 – Music as Medicine
Exploring notions of music, Music as Medicine is a collaboration between UWIDO and the Community Arts Council of Vancouver, centred around the power of music as a means to heal through gathering, expressing, relating, sharing and learning.
UWIDO is a music company based in Vancouver, BC, prioritizing support for independent BIPOC artists. Offering services in career consultation, creative direction, grant writing, management and more, UWIDO offers support by, with, and for artists while helping them keep their independence.
Event host: Francis Arevalo
Performers: Bukola, Dakota Bear, Mikey Jose
---
October 29, 2022 – Outsiders at the Annex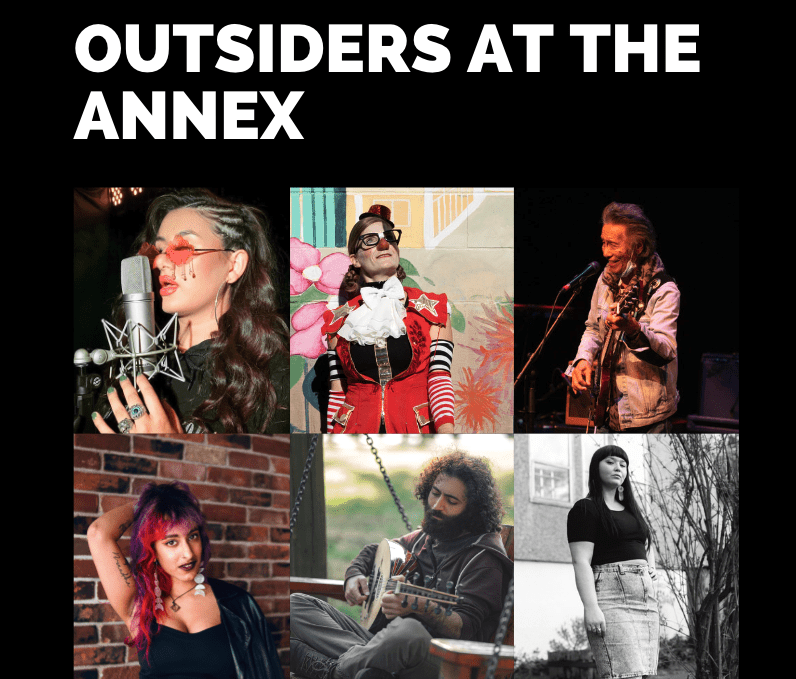 The Community Arts Council of Vancouver presents Outsiders at the Annex, a diverse night of emerging performing artists at the Annex Theatre. The next event will take place on February 18, 2023.
These events are an extension of the annual Vancouver Outsider Arts Festival, which is presented annually by the Community Arts Council of Vancouver. The festival offers opportunities for exhibition, performance, connection, and learning to visual and performing artists facing social exclusion and other barriers. The artists featured in these events are local Vancouver artists and past participants of the festival.
We hope these events will foster new relationships and connections and a chance to gather once again and celebrate the talents of established and emerging artists in our community!