Applications are now closed. The Community Arts Fund will return in Spring 2024.
The Community Arts Fund grant provides support for the planning, creation, and execution of projects that focus on building community through arts-related engagement. Both organizations and individuals may apply to create projects that will help to build bridges of understanding, community confidence, and support in the City of Vancouver. Projects that serve the Downtown Eastside (DTES) community will receive special consideration as the fund was originally founded on supporting the DTES and has since expanded to reach the wider City of Vancouver community. 
2023 Project Announcements
The Community Arts Fund is delighted to announce the 2023 funding recipients. This year, we saw an overwhelming response with a record 143 project proposals received, compared to 64 in 2022. Out of the exceptional submissions, six projects have been selected to receive a total of $23,000 in funding. We were thrilled to see the diverse and creative ideas that came in this year and look forward to witnessing the positive impact the selected projects will bring to our community in the coming months!
Selected Projects
25th Anniversary Podcast Series presented by Centre A
Centre A will start a podcast series as a part of our organization's 25th-anniversary celebration. The podcast series will start with an introduction to Centre A and explore different pivotal points in our 25 years as an arts and culture institution. It will also situate the organization within Chinatown and Gastown by exploring the different locations that Centre A have called our home. For the anniversary series, we will also interview 8 artists with a wide range of practices that the organization has worked with since our inception in 1999. In addition to the guest speaker interviews, we will also explore topics such as community organizing in Chinatown, intergenerational connection, migration history and experiences in different episodes throughout the year.
Enable Creativity, Enable Play presented by Enable: Arts Society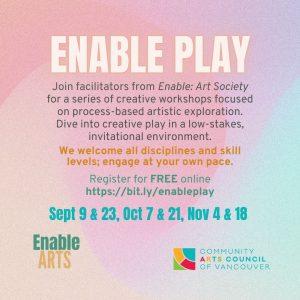 In a series of six exploratory workshops, multidisciplinary artists and seasoned workshop facilitators Franz Seachel, Anjalica Solomon, Patricia Naguiat, Tawahun Bige, Alisha Sian, and Alyssa Amarsi will lead participants through different process-based play and expressive art explorations. Each will focus on aspects of poetry, movement, visual art, and mental health, that invite participants to connect with their inner child and work on creating without attachment to the outcome. The artists will guide participants through meditations, share their poetry, music, art, and dance works in progress and guide participants into flow-state collaborative creation that is land-based. Toward the end of each workshop, participants will have the opportunity to share their own creative explorations with the group in a safe and encouraging environment. The objective is to focus on building participants art based practices in a way that centres process over production and building community, in this way, we attempt to decolonize how we make art. Register online: https://www.eventbrite.com/e/enable-play-tickets-687698563917
Marpole Community Artist Exhibit presented by Marpole Neighbourhood House
Marpole Neighbourhood House has been a safe and inclusive space
where people come together to strengthen their leadership capacities and build a better neighbourhood. This project will showcase our local artists by organizing a community artist exhibit where they can share their art and others can appreciate it.
Pride in Art at the Carnegie Community Centre presented by the Pride in Art Society
The Pride in Art Society (PiA) will present a series of free 2SLGBTQIA+-led arts events and workshops at the Carnegie Community Centre in Vancouver's Downtown Eastside (DTES). This project aims to strengthen community ties, provide residents of the DTES free access to performing arts events and visual arts classes, and increase the visibility of Vancouver-based 2SLGBTQIA+ artists as agents of positive social change.
Queer Joy Workshop Series and Screening presented by XINEMA
As an expansion of XINEMA's eighth program surrounding the theme of Queer Joy, XINEMA and guest curator, Rae Grant Duff will be hosting a workshop series and community screening with local analogue fieldhouse Echo Park Film Centre North.
When the Cycles of Corn, Salmon and Bison Meet presented by Dunna'eh House of Healing Society
This project aims to create a dialogue in a culturally safe environment about traditional Indigenous knowledge regarding cultural foods. We aim to create a Culinary Sanctuary where we will consult with Indigenous communities and Elders in a trauma informed-approach to gain a better understanding of their perspectives on food and nutrition and to ensure that our protocols of preparation of food are culturally appropriate and respectful. One of the primary goals of this project is to dismantle colonial narratives surrounding food preparation and promote culturally appropriate practices for urban Indigenous peoples. To achieve this, we intend to document traditional knowledge through various mediums such as video, photography, and written materials. The project will also host a community film screening at Strathcona Park featuring documentation of a bison ceremony, followed by a round-table discussion to foster dialogue and understanding. The event will close with a community feast.