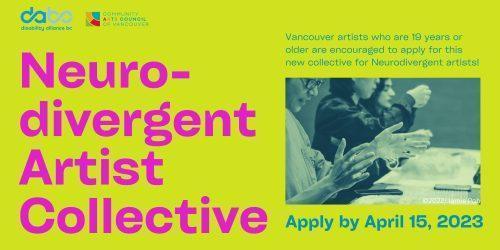 Applications are now closed. Thank you to everyone who applied!
Deadline to apply: April 15, 2023, at 11:59 p.m. PST
Notification of Results: May 2023
Artist fees: All collective members will receive a $200 artist fee after participating in the final exhibition. Financial support for travel, art supplies, framing, and more will also be available.
Collective capacity: 2023 collective will consist of up to 30 members.
Questions? Don't hesitate to get in touch with us at shannon[@]cacv.ca or 604-682-0010.
Project information:
This project will encourage neurodivergent artists to take space in a neurotypical world and work collaboratively to dismantle invisible inequities in contemporary art spaces. In 2023, the collective will work together to present a minimum of one visual arts exhibition in November in downtown Vancouver.
The target group for this project are artists who are 19 years or older and self-identify as neurodivergent, and who have felt alienated from engaging in the arts due to a lack of access and other barriers. Artists without a portfolio of work who can bring other valuable skills and experiences to the collective are encouraged to apply!
This collective will be a safe space for folks who face socio-economic barriers, from differing cultural backgrounds, and folks from all sexual orientations and gender identities.
Artists must live/work within the City of Vancouver's 22 local areas: Arbutus-Ridge, Downtown, Dunbar-Southlands, Fairview, Grandview-Woodland, Hastings-Sunrise, Kensington-Cedar Cottage, Kerrisdale, Killarney, Kitsilano, Marpole, Mount Pleasant, Oakridge, Renfrew-Collingwood, Riley Park, Shaughnessy, South Cambie, Strathcona, Sunset, Victoria-Fraserview, West End, West Point Grey.
Check out some of the other projects who have received DABC funding:
https://disabilityalliancebc.org/program/accessibility-projects/successful-accessibility-projects-2022/