Reframing Relations is currently on hiatus as we take time to return following the impact of COVID-19 and to access where our community's needs are now.
Reframing Relations brings Indigenous and non-Indigenous artists together in schools, community settings, organizations, and corporations to facilitate workshops that build understanding around Indigeneity. This program is suitable for Indigenous, non-Indigenous, and mixed audiences. Participants work together on collaborative, arts-based 'Statements of Understanding' to discover where their awareness of Indigenous issues is located today, where they have gaps in their knowledge, and what concrete actions can be taken to support positive social transformation. Reframing Relations facilitators are experienced artists and educators who model allyship, vulnerability, and intercultural dialogue. Reframing Relations is about moving forward together.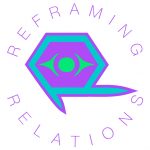 Questions? Contact us at shannon@cacv.ca for more detailed information about the program.
Check out how our artist-facilitators describe our work in schools in the following video by 3 Crows Productions:
Facilitators:
Ronnie Dean Harris
Roxanne Charles
Serene Porter
Frankie McGee
Will Weigler
Jillian Christmas
****
Interested in becoming a facilitator? Apply today:
This program has been developed with guidance from the Indigenous Education Department of the Vancouver School Board, the Surrey School Board, and the Urban Native Youth Association. It has also received crucial support from the Surrey School District, BC Arts Council, the Telus Community Board, and VanCity. We extend sincere thanks to our funders, supporters, and partners.
Special thanks to deuxmillefoundation.org for their multiyear support!