Do you have an Artist Call you'd like promoted?
E-mail us at communications@cacv.ca with the following format:

Artist Call Title
Details
Deadline
A graphic and/or logo
---

🎨🎭🎉 CALL FOR ARTISTS & PERFORMERS
Applications for the 2023 Vancouver Outsider Arts Festival are still open!
This festival celebrates the creativity of Vancouver artists who break the mould. Whether you work in paint, clay, sound, movement, or anything in between, we want to see what makes you an outsider artist. Don't miss your chance to showcase your unique vision and connect with a community of like-minded folks!
Application Deadline: May 15 at 11:59 pm PT
Dates of Festival: October 12-17, 2023
Accessibility: Our staff will work with each applicant to meet their needs and make their experience at the festival as comfortable as possible. If you would like to request assistance with your application, please reach out at voaf@cacv.ca or 604-682-0010.

Head to our website to learn more and submit your application: https://www.voaf.ca
---
Community Arts Fund – Call for Applications
The Community Arts Fund is back and is now accepting applications! 🎉 If you have a project idea that benefits the community, we want to hear from you! Our fund provides financial support for a wide range of arts initiatives, including visual arts, music, dance, theatre, and more.
We can't wait to see your amazing ideas and to help bring them to life!

Applications will be accepted until June 1 at 11:59 p.m. 
Visit https://www.cacv.ca/community-arts-fund/ to learn more about The Community Arts Fund and to apply.

For assistance with your application, reach out to our team at caf@cacv.ca or 604-682-0010.
---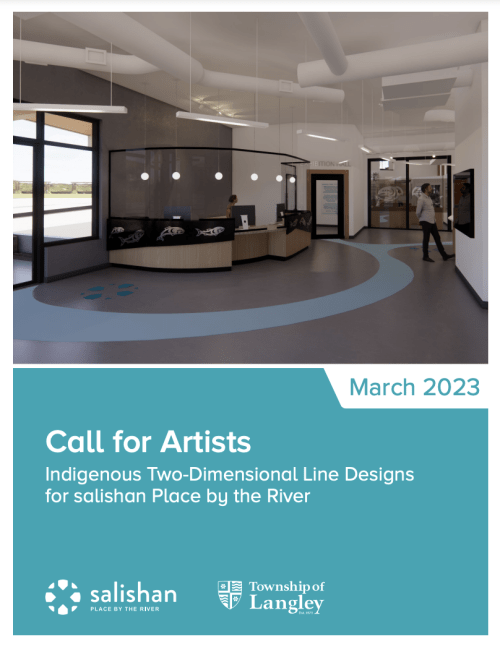 salishan Place by the River: Indigenous 2D Line Designs
The Township of Langley is requesting original two-dimensional line design submissions from Indigenous individuals/teams living in the lands known today as British Columbia. The designs will animate the indoor and outdoor gathering spaces at salishan Place by the River, the Township's new arts, culture, and heritage centre. The submitted designs should reflect the individual/team's values, cultural identity, and/or stories that demonstrate connections to the lands and waters. Designs may include plants, animals, people, landscapes, and geographic features.
The selected designs will be applied in a variety of scales and techniques at salishan Place that may include:
• Colour vinyl prints of designs applied to walls or glass surfaces;
• Designs etched or cut into millwork;
• Designs painted on surfaces; and
• Designs etched or stamped into ground surfaces.
Deadline to Apply: April 28, 2023.
For more details, visit: https://www.tol.ca/en/artist-opportunities.aspx.
---
Richmond's 2023 Writer-in-Residence Call for Expression of Interest:
Richmond's Writer-in-Residence Program delivers hands-on programming for local emerging and aspiring writers. The annual residency position runs from September through November each year and is a partnership between Richmond Arts, Culture and Heritage Services and Richmond Public Library.
The City of Richmond is seeking proposals from emerging or established writers with experience in developing and facilitating workshops, leading public conversations and hosting readings and events. The Writer-in-Residence will also provide advice and mentorship opportunities to emerging writers from diverse populations.
· Residency Dates: September 23 – November 30, 2023
· Program Partners: Richmond Public Library and Richmond Arts Centre
· Application Deadline: Tuesday, May 30, 2023, 10:00 AM (PST)
· Details and updates: richmond.ca/writerinresidence
Remuneration:
· $5,000 (2 month contract position)
· The successful candidate will be responsible for finding their own accommodation and transportation
Expressions of interest packages must include:
· Cover letter – including a clear plan for public programming during the residency.
· Resumé – including a history of literary publications, previous community engagement experience, teaching experiences, conducting library programs, facilitating workshops or other forms of public presentation.
· Contact information for three references.
· 20−30 page (max.) sample of recent writing, along with reviews of earlier works.
· Once a short-list of candidates has been determined, the selection committee will request three letters of reference from each of the short-listed applicants.
Application Deadline:
Completed expression of interest packages must be received by Tuesday, May 30 2023, 10:00 AM (PST)
Applications can be emailed as a Word document or PDF to: WriterinResidence@richmond.ca
---
Call for Proposals: Visual Arts Exhibition Opportunities with VCT
Vancouver Civic Theatres (VCT) invites local visual artists to apply for our gallery program offering group exhibition opportunities in 2024. The program provides artists with the opportunity to display work throughout the Queen Elizabeth Theatre Lobbies.
For 2024, VCT will select up to eight artists or four artist collectives to display work on a seasonal basis. Available exhibition slots include January-March, April-June, July-September, and October-December.
Interested applicants are welcome to attend our upcoming Visual Arts Open House at the Queen Elizabeth Theatre to view the exhibition space on Saturday, May 6th between 1:00pm and 4:00pm.
Deadline: June 14, 2023 at 5:00pm
Please visit https://vancouvercivictheatres.com/events/vct-visual-arts-gallery-program-call-for-proposals-2023/ for more details and information on how to apply.
---
---
---
---
Ceramic Artist in Residence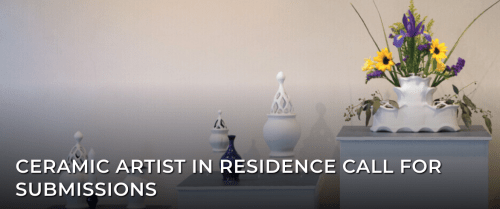 The Port Moody Arts Centre Society supports artistic excellence and innovation. This residency is open to all emerging ceramic artists over 19 years of age. This residency is an excellent opportunity for artistic development within an innovative and supportive ceramic community. The residency will require an emphasis on making, learning and sharing the process of creating with clay. The clay studios at PoMoArts are busy, supportive and house a true sense of community. There are classes for adults in hand building and wheel throwing, children and teen classes that range from after school clay to spring & summer camps, plus a very active Open Studio. You will have the opportunity to teach classes as a paid instructor and to display your work.
Deadline to apply: May. 23, 2023
Learn more and apply at pomoarts.ca/exhibitions/cair-call-for-submissions-2024
---
Science World – Artist-in-Residency Program

Place des Arts seeks submissions from current and former Place des Arts students, teachers, volunteers, artists, artisans and staff for our 50th Anniversary Community Exhibition. The exhibition will be installed in the Atrium at Place des Arts from June 2 – 22, 2023 and viewable online at placedesarts.ca/exhibitions from June 9 – Augus
---
CALL FOR ARTISTS – Coast Mental Health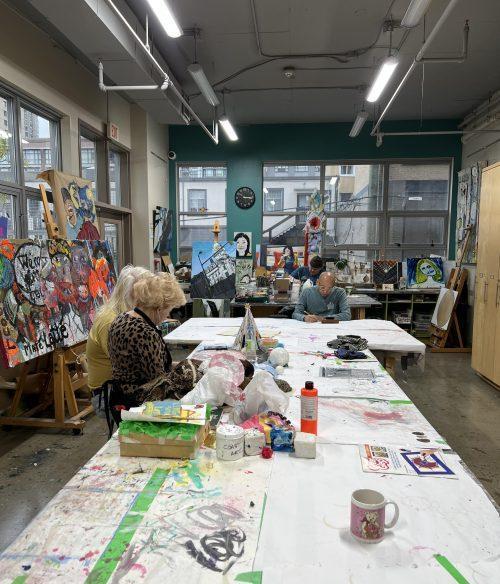 Coast Mental Health Resource Centre, located at 1225 Seymour St., has a beautiful Visual Arts Studio looking for new artists. The studio is accessible regularly from 9:00am to 4:00pm Monday to Saturday. If you would like to come and visit for orientation the studio is open Tuesdays from 10:00 a.m. to 12:00 p.m. when we have two volunteers who can introduce you to the facility. The space is ideal for artists who identify as living with mental health challenges.
More information at www.coastmentalhealth.com