Do you have an Artist Call you'd like promoted?
E-mail us at communications@cacv.ca with the following format:

Artist Call Title
Details
Deadline
A graphic and/or logo
---
Call for Artists in Communities 2023 – Vancouver Park Board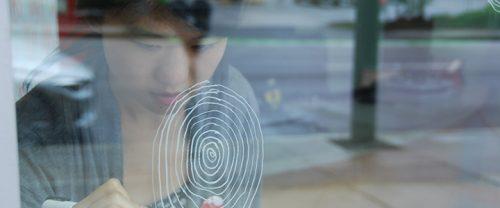 The Artists in Communities Program (AIC) is based on principles of community cultural development – building community by making art together. It supports artists working in community contexts and encourages a wide variety of interactions between artist and community members. AIC looks for a lasting physical and/or social legacy from projects and supports community-engaged arts practices that see artists collaborate with community members who may not see themselves as artists, working together over an extended period of time as creators, producers, performers and active audiences.
Artist Fee: $13,000.00
Materials Expenses: $2,500.00
(the artist fee is based on approx. 300 hours, which includes: research & development, maintaining online project documentation and delivering the project proposal and final report)
Contact Name: Oliver McTavish-Wisden
Contact Email: art.info@vancouver.ca
Contact Phone: (604) 718-6521
Learn more: https://vancouver.ca/people-programs/artists-in-communities-program
---
Gallery Gachet – Annual Call for Submissions / 2023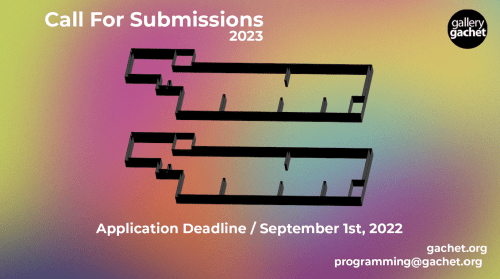 Gallery Gachet welcomes proposals for exhibitions and projects that engage our mandate in interesting and challenging ways. We accept proposals for solo, group, curated, or major exhibition projects, as well as screenings, workshops, performances, and collaborations.

SELECTION PROCESS
The Gallery Gachet Collective selects a jury of both internal and external artists and curators, including members of the Gallery Gachet Collective. Jurors meet in September 2022 and put forward their suggestions to the Collective for final approval. Notification of the results will be sent by October 2022.
Submission Deadline: Thursday, September 1, 2022

Learn more and apply: http://gachet.org/annual-submission-process-2023/
---
Artist Call: Seniors Exhibition – Langley Arts Council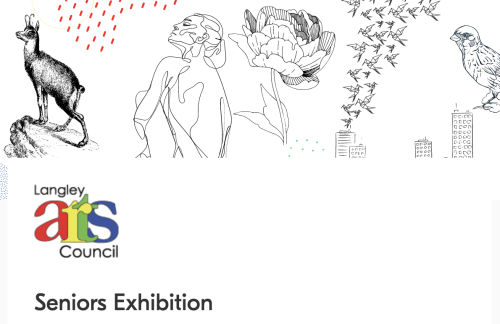 Artists must be 60 or older to apply to this call. Artists are welcome to submit 3 artworks for consideration and will receive a notice via email about the status of their submission after the show's submission deadline. If you are accepted to this exhibition your artwork will also be featured in the virtual online gallery. The Langley Arts Council takes a 30% commission on all online or in-person artwork sales for this exhibition.
Exhibition Dates: August 31 – October 10th
Application Deadline: August 15, 2022
Learn more: https://www.langleyarts.ca/submit/seniors
---
Hearth Gallery – Arts on Bowen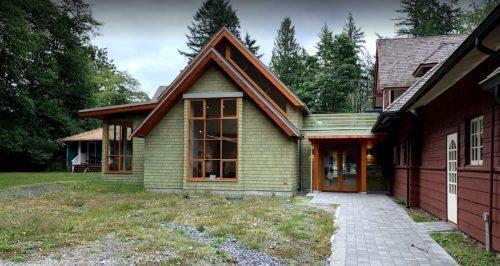 The Hearth Gallery (Bowen Island Arts Council) is now planning the 2023 gallery season. The Hearth is an inclusive non-profit art gallery – ALL artists are strongly encouraged to apply. The Gallery will consider work in any medium, 2D & 3D, literary and in any subject area. All ideas, designs and reference material must be the artist's own work. Art, in a cultural style to which the artist has no cultural or ancestral ties, cannot be considered. We welcome proposals from Bowen Island artists, connections to Bowen Island, and a limited number of artists from the Vancouver Lower Mainland. Solo, collaborative or group exhibitions are welcome.
HOW TO APPLY:
Email the completed application to curator@thehearthartsonbowen.ca or drop off at the Hearth Gallery on Bowen Island, BC Please include the following information with your proposal: 1. Cover letter 2. Completed Application 3. Theme of proposed exhibition with an example of your work that supports your theme 4. Artist Statement related to the proposed theme 5. Resume/CV: biographical information, education, exhibition history 6. Digital images of 5 finished art pieces representative of your current body of work (last two years) with your name, title, date, size, medium, and price. A fillable version of the application can be found on our website: thehearth.ca
Contact Name: Jami Scheffer
Contact Email: curator@theheartartsonbowen.ca
Contact Phone: (604) 947-2454
---
Art 4 Life: Call for Submissions

Creating art is a lifelong pursuit, so PoMoArts would like to invite artists from 18 to 100+, working in all mediums, to explore themes in their work that would appeal to youth. The call is for a multi-artist, in person gallery exhibition of 2D and 3D artwork, as well as participatory features for a younger audience. (Less than 18 years).
Art 4 Life is a six-week exhibition that includes art, activities and events geared to the young and the young at heart. The goal is to cultivate artistic growth in our community by inspiring and engaging children, while raising opportunities for active participation and discussion, as well as lessons on cultural and environmental awareness, and art appreciation. The benefits of an arts education affect every area of life and we want it to be a lifelong journey.
Please fill in the online submission form here or contact submissions@pomoarts.ca for assistance.
Exhibition dates: September 15 – October 30, 2022
Deadline for Submissions: Sunday August 21, 2022
Contact Email: galleryassistant@pomoarts.ca
---
Fieldhouse Activation Program for community engagement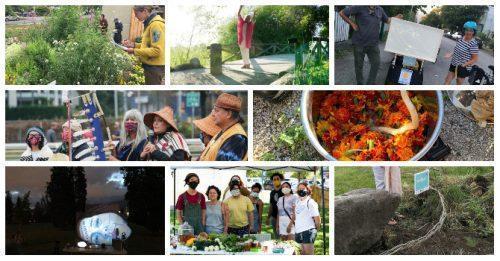 The Vancouver Park Board's Fieldhouse Activation Program provides long-term access to fieldhouses in parks across the city for artists and organizations to create a home-base for projects and activities that engage the community. By repurposing underused fieldhouses into small community spaces, this program aims to:
• Animate our neighbourhoods with place-based activities focused on one or more of our priority themes: Arts & Culture, Environment Stewardship and Local Food.
• Host projects, workshops, performances, exhibitions and activations in locations where people already gather
• Provide long-term, rent-free work and presentation space in exchange for community engaged projects and activities
As part of this program, the Park Board provides space for a three year term (January 2022 to December 2024) with an option to reapply for a three-year term following.
We strongly encourage you to visit fieldhouses, attend fieldhouse events, and chat with local artists, local food experts and garden stewards, about their fieldhouse experiences before you apply.
To Apply, please visit: https://survey.vancouver.ca/s3/fieldhouse-activation-program-2023-2025
Contact Name: Oliver McTavish-Wisden
Contact Email: oliver.mctavish-wisden@vancouver.ca
Contact Phone: (604) 718-6521
---
Call for Squamish Nation Artists (Public Art Opportunity)
This call for public art deals specifically with the opportunity presented by Squamish Nation and Park Royal. The purpose of this public art component is to acknowledge Squamish Nation culture. This will be a legacy project for the whole community. In addition, the goal of this RFP process is to present these opportunities to be open and easily accessible to all Squamish Nation artists. Our goal is to provide Nation artists with an open and equitable chance to participate in RFP process for public art installation initiatives.
Please download PDF for application and information on the project here: https://smallpdf.com/file#s=9c8265ba-117d-48c6-93ec-0eab233586e3
Submissions should be emailed directly to Christina (Christina@expanded-field.com), with the subject line: RFP Park Royal
Compensation: Two opportunities, Opportunity A is $150,000 (including artist fee and fabrication costs), and Opportunity B is $10,000 (artist fee for design, no fabrication required)
---
CALL FOR ARTISTS – Coast Mental Health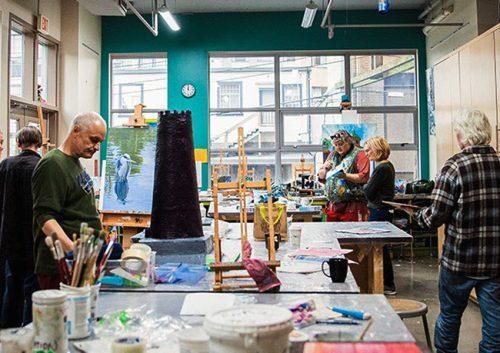 Coast Mental Health Resource Centre, located at 1225 Seymour St., has a beautiful art studio looking for new artists. If you would like to come and visit, the studio is open Tuesdays from 10:00 a.m. to 12:00 p.m. and two art volunteers will be there to introduce you to the facility. The space is ideal for artists who identify as living with mental health challenges.
More information at www.coastmentalhealth.com
---