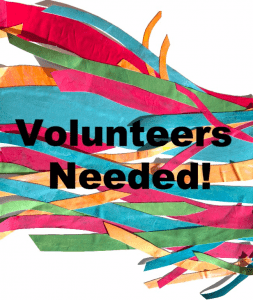 Are you looking to become more involved in the Vancouver Arts community, but don't know where to start? Do you have volunteer hours you need to fill for school, or perhaps you simply have some free time on your hands this August?
We have the perfect solution: our first Vancouver Outsider Arts Festival is seeking volunteers!
Are you skilled at set up? Take-down? Are you particularly charming, and greet all strangers with a friendly smile? Are you interested in being a liaison for our talented artists? Sign up and you can pick from a variety of tasks!
Volunteer roles include:
– Install
– De-install
– Floor runners
– Sales
– Greeters
– Information
– Artist services
The scheduling is flexible: shifts are 4-5 hours long, and you can volunteer for a single day or for all four, it's up to you!
If this sounds appealing, e-mail voaf@cacv.ca or call 604-682-0010 with your availability between August 11th and 13th. Our volunteer coordinators will be in touch shortly thereafter!
Be sure to check out the Vancouver Outsider Arts Festival; more information can be found here!