Well, it is that time of the year, the beginning of The Season.  The festivities that will get us through the long, dark, days ahead.  Cheer you up?  No.  Okay, let's go to the Heart of the City Festival, organized by the incredible Vancouver Moving Theatre team, showcasing and highlighting arts and craft in the Downtown Eastside.  Featuring all the people we know and love, (well, for the most part – can't win 'em all) and bringing in the fresh and new to us from other parts of Vancouver, and some times even the larger world beyond.  Ahem.
As you can see, this year's poster person (this is as cumbersome as 'waitstaff" which I personally despise) is our lovely and talented sister Muriel Marjorie, writer, poet, actor, comedian,  visual artist, and for sure she has other areas of expertise for us to yet discover.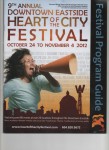 The Festival, as usual, has an abundance of treasures – performing arts, visual arts, media arts, culinary arts, dinners, food fairs, walking tours……………..lectures, discussion groups, films.  And, in the midst of this we take the time out to remember friends who are gone from us Ricky Lavallee and Sandy Cameron.
Check out the program guide online at http://www.heartofthecityfestival.com/
My picks for the pre-event festivities are the film about the Komagata Maru, on Saturday, 20th October, and the Community Dinner and Food Fair, on Monday 22nd October at W2 Media Cafe.  Food, always wins with me, and the film is because I am an Indian by birth and proclivity.  The opening festivities in the Carnegie Theatre on the 24th (Wednesday) are also hot on my list – an extravaganza not to be missed.  Unless you absolutely cannot make it.
Hope to see you there!
Stay safe, Karenza