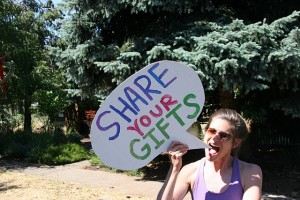 Walk, bike or take public transit and come visit with us and talk about how to "create community through the art." On Sunday, June 20, we'll be Main Street close to 30th at the Village Vancouver Arts & Celebration Group's area. We're one of several aspects to VV's demonstration neighbourhood. Learn about — chickens, bees, permaculture, solar energy….. Think about – and talk about: What would your ideal neighbourhood look like?
Our part is by contributing sample speech bubbles and then taking your photo with your favorite saying – or let you make your own. It's part of the People's Summit and linked in with Car Free Vancouver Day.

Raien and Jessie will be there from noon to 3 and Aleida and Sean from 3-6. Come and say "hi" and get your photo taken. (And thanks to Sabrina and Laura for making the speech bubbles.)
CACV will be there creating community through the arts.