Below are a few of the responses we received from the inaugural Outsider Arts Festival.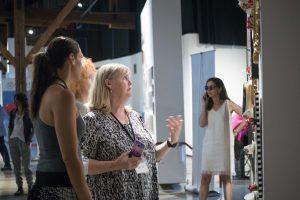 A huge thank you from me and all the dancers for this opportunity to be part of Vancouver Outsider Art Festival this year! It was amazing meeting and seeing all these artist share their work and passion. We truly had a really great experience performing on this stage. – Artist

Wonderful event team. Please do this again! Loved the earnest write ups of the artist lives and process/inspirations. Awesome to be able to interact with some of the artists, so nice to get a taste of their passion and enthusiasm and pride. And you had cookies?! The Vancouver Art Gallery could really learn something from this event and making art accessible. Amazing! – Attendee
Thank you again for your generous support. It was a wonderful experience being part of this Vancouver OAF, thank you. – Artist

What a fantastic show. So great to support the artists and what a treat to meet several while I was here. Please do this show again (and again…)! – Attendee
Community driven arts rules! Thanks for the venue and especially the performances. – Artist

It is always an absolute pleasure to see such varied and inspired art. The colour, diversity was amazing. Fabulous idea – keep having this art show. – Attendee
I was chosen as one of the participating painters. I was honoured and happy to be chosen. This has been amazing experience for me firstly to wipe the dust from the work and then to be seen. Pierre, Eric, and the volunteers especially my volunteer were calm, encouraging, and it made the weekend very enjoyable and not frightening to be seen. I hope this incredible project – seeing outsider work – continues. Thank you. – Artist

Well done. Look forward to next year. Supporting a wonderful and special cause. Congrats. – Attendee

Great experience with the application process, which is usually the biggest obstacle for me. Really appreciated all the help. Challenging to know what people will want to see and curate myself. Great space and thanks for putting this on! – Artist

I am pleasantly shocked and happy to see the existence of this festival. I'm from Toronto. As an "outsider" I gave up figuring "how-to" get "in" as an Artist. Someone, some city, has to be FIRST to do this. Why not YVR? The curation is excellent. Every artist is show such different work in so many mediums. I wish I'd learned of this earlier. I'd feel "welcome" as an outsider artist to participate in the future. You've created a non-judgment, safe space. – Attendee

I really enjoyed sharing and celebrating our art and experiences with like-minded artists. It didn't feel competitive – which has been experienced in other settings. It also offered the opportunity to learn about marketing, branding, and perseverance in what can often feel a solitary journey, without recognition and encouragement. – Artist

I specifically came over from Victoria to visit and see this show. Great organization and flow to the exhibits. Well managed and I look forward to seeing this as an annual event! – Attendee

Thank you. First and foremost to those with the vision for and belief in the outsider artist concept. Thanks to all who carried it forward and saw this wonderful festival to fruition. – Artist

To be honest, coming in I had no idea of what I was stepping into. I had just been coming in to see an acquaintances work. Fortunately I had wandered off in the opposite direction of where the exhibit was. There were many different pieces that I found connection to, and found many artist with different expressions of the phrase "outsider." What I found most is the release that emanates from each artists personalities, some are finding their wings, while some are well on their way. It was an enlightening experience and I wish I could do more for the artists exhibited than give my presence. Thank you for sharing. – Attendee

It was magic, thank you. Hope to come back next year. I am so grateful for the exposure. – Artist

Wow! Mind-blowingly good art! Definitely do this event again; I hope its an annual festival! Telling all my friends! Amazing! – Attendee

This was an amazing show. It was well done…I hope I can be a bigger part of it next year. Perhaps even have the courage to exhibit…Thank you to all the sponsors…the artists and all who came: 'the courage to come back – the courage to be a part of'. – Attendee

It was absolutely wonderful! – 5-year old child
Thank you to all who participated, and to all those who came out and showed their support. We hope to see you next year!