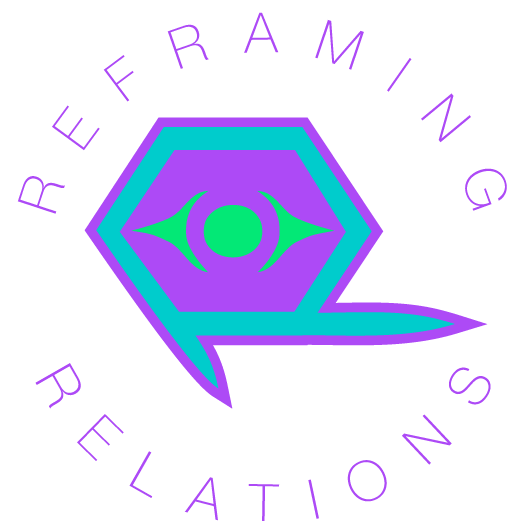 Reframing Relations is part of a national conversation around our current understanding of reconciliation. In classrooms and in the community, artists engage youth in addressing our shared history and envisioning our future together.
Indigenous and non-Indigenous youth currently lack opportunities for creative and respectful dialogue where it is possible to debunk stereotypes and question taken-for-granted narratives. Reframing Relations provides workshops where youth work together on collaborative, arts-based "Statements of Understanding" to discover where their awareness of Indigenous issues is located today, where they have gaps in their knowledge, and where they have areas they want to explore.
Reframing Relations is conducted by a pair of professional artists, one Indigenous and one non-Indigenous. These artists share stories of their understanding of reconciliation, in the broad sense, and model positive intercultural relations.
Ronnie Dean Harris aka Ostwelve, Project Director, is a Stō:lo/St'át'imc/Nlaka'pamux multimedia artist based in Langley, BC. Since 2009, he has been leading workshops at various youth organizations on developing leadership skills, music production, media arts production, and career planning. As a hip hop performer, Harris has toured globally and performed with such artists as A Tribe Called Red, Drezus, Swollen Members, Guru, and Snoop Dogg. In 2010, Harris worked with "All Nations Healin' Thru Artz" an after school program in North Regina. Lyrics to his song "Life Has No Sequel" was published in grade 9 textbook, i wonder. Harris played a lead character, Red, in "Moccasin Flats" on APTN showcase.
Kelty McKerracher, Project Co-Facilitator (and CACV Program Coordinator), has worked with Vancouver Moving Theatre and Toronto's Jumblies Theatre on intercultural community-engaged projects such as The Big House Cultural Sharing Feasts (2015). She received a BC Arts Council Professional Development to participate in Train of Thought, a cross-Canada tour exploring relationships between Indigenous and non-Indigenous artists and communities. Kelty founded Barrio Flamenco, a multi-year project teaching flamenco dance and singing in the Downtown Eastside community, and produces an annual flamenco show with local and international artists for the Heart of the City Festival. As a flamenco artist she has studied in Vancouver, Spain and New Mexico and performed at venues such as the Vancouver International Flamenco Festival. She holds a Masters degree in Expressive Arts Therapy with a Minor in Psychology from the European Graduate School.
This pilot project has been developed in partnership with the Aboriginal Education Department of the Vancouver School Board and the Urban Native Youth Association. It has also received crucial support from the Surrey School District, BC Arts Council, and Telus Community Board.