Reframing Relations brings Indigenous and non-Indigenous artists together in schools and community settings to facilitate dialogue about reconciliation in Canada. Participants work together on collaborative, arts-based 'Statements of Understanding' to discover where their awareness of Indigenous issues is located today, where they have gaps in their knowledge, and what concrete actions can be taken to support meaningful reconciliation. Reframing Relations facilitators are experienced artists and educators who model allyship, vulnerability, and intercultural dialogue.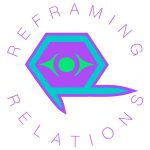 Questions? Contact our Program Manager at johnny@cacv.ca for more detailed information about the program. And, check out how our artist-facilitators describe our work in schools in the following video by 3 Crows Productions:
Facilitators:
Ronnie Dean Harris aka Ostwelve, Project Director, is a Stō:lo/St'át'imc/Nlaka'pamux multimedia artist based in Langley, BC. Since 2009, he has been leading workshops at various youth organizations on developing leadership skills, music production, media arts production, and career planning. As a hip hop performer, Harris has toured globally and performed with such artists as A Tribe Called Red, Drezus, Swollen Members, Guru, and Snoop Dogg. In 2010, Harris worked with "All Nations Healin' Thru Artz" an after school program in North Regina. Lyrics to his song "Life Has No Sequel" was published in grade 9 textbook, i wonder. Harris played a lead character, Red, in "Moccasin Flats" on APTN showcase.
Johnny Trinh, CACV Program Manager, is a performer and poet who has experience in arts education, project coordination, and community engaged practice, as well as a recent MFA in the field. He came to us from Waterloo via Regina for school, but has been very busy since landing on the West Coast. Currently he works for North Vancouver Arts Council, as well as he Presentation House Theatre, for which he has been creating a daylong event with strong Indigenous connections.
Kim Villagante also known as Kimmortal is an artist based on the ancestral unceded land of the Coast Salish people.  As an artist of lines and rhymes, as well as an arts-based community organizer, Kim fuses her phenomenal artistic talents (as a visual-artist, singer-songwriter, rap-poet-lyricist, and actor) with her passion for social justice. Kim was awarded the Vancouver Mayor's Arts Award in Community-Engaged arts in 2013, and is also the founder of "SHE", an annual East-Vancouver event celebrating BIPOC women in the arts. She has toured her music in Toronto, California, and the Westcoast.
Johnny MacRae is a mouthy poet. He's been both a regional and national poetry slam champion, and was named the Victoria Spoken Word Festival Poet of Honour in 2013. He's toured widely across the country, performing at readings and slams, as well as poetry, theatre, and music festivals, and has offered over 250 workshops and performances in schools since 2010. MacRae also co-directs Hullabaloo, a celebration of BC youth spoken word, and WordPlay, the Vancouver Poetry House's school outreach program.
Jillian Christmas (bio coming)
Roxanne Charles (bio coming)
Andi Icaza-Largaespada (bio coming)
Mallory Amirault (bio coming)
Frankie McGee (bio coming)
Tawahum Bige (bio coming)
Will Weigler (bio coming)
****
This program has been developed with guidance from the Aboriginal Education Department of the Vancouver School Board, the Surrey School Board, and the Urban Native Youth Association. It has also received crucial support from the Surrey School District, BC Arts Council, the Telus Community Board, and VanCity. We extend sincere thanks to our funders, supporters, and partners.