---
Anjalica Solomon
Anjalica is a joyful and experimental poetess who plays with storytelling both on and off the page as a poet, loop pedalist, singer, and collage artist.
---
Cameron Davidson: I Want Everyone to Like Me
"I Want Everyone To Love Me" invites you to love one emcee, 1-2 dancers, a keyboard player, video projections, digital audio from samplers and turntables and a live performance on a drum kit made from found items. Duration dependent on level of love.
---
Debora de Oliveira: Ausência
Friday, August 9. 2:00PM – 2:05PM | 4:00PM – 4:05PM | 6:25 – 6:30PM. Exhibition Hall.
RSVP on Eventbrite | RSVP on Facebook.
Ausência, meaning absence, is an aerial silks performance exploring de Oliveira's feeling of emptiness experienced during her rough artistic journey.
---
Downtown Eastside Writers Collective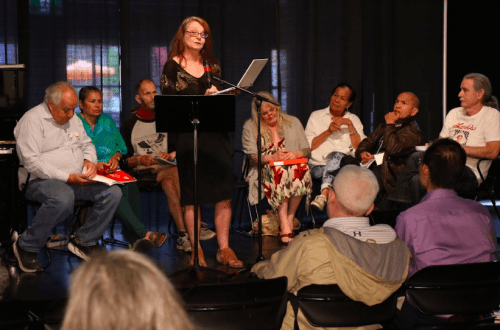 Downtown Eastside Writer's Collective is following in the footsteps of Thursdays Writing Collective which met at Carnegie Community Centre for ten years and published numerous chapbooks and anthologies.
We write from prompts and we share what we have written if we want to. No pressure. We listen to one another and support each other's creative work.
---
Duo Saudade & Cai
Duo Saudade & Cai are a chamber music project made up of classical violinists with a vivid interest in new ways of performing. From classical duets, to contemporary pieces, to their own creations, their performances and visual creative support engage the audience in a much wider way.
---
Highs and Lows Choir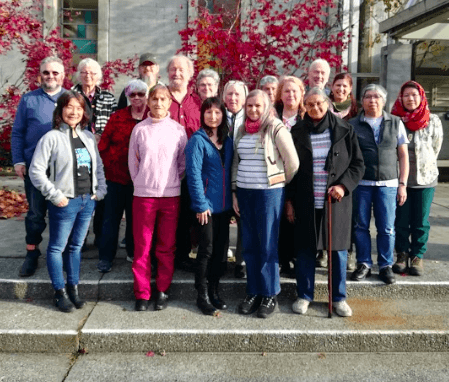 The Highs & Lows Choir is a peer-managed four part choral group that seeks to promote mental health and wellness by providing folks with lived experiences of mental illness (as well as allies and friends) with access to music.
Our goal is to create an inclusive and supportive environment for all of our members. There is no pressure to attend every practice or performance, we just want to have fun singing.
---
Jerry LaFaery & Sparkipelago
Sparkipelago is a band of shiny human islands. The group works to deliver a wave of emotion through a curated selection of beloved classics, and sparkly new gems. The waves sail out to you. Come out … drift away … and lose yourself in something old, familiar & new.
---
John Howard Society Group
Participants in CACV's Artist In Residence program will showcase their talents and samples of work they have developed with guest artist Kimmortal and resident artist Johnny D. Trinh.
---
Mildred Grace German: Huwag Kang Baboy | Year of the Swine
Experiencing forced migration, family separation and reunification, globalization, colonialism, racism, and never-ending goodbyes fill the dance movements of German in Huwag Kang Baboy | Year of the Swine. Combined with visual art, choreography, and music direction German presents, this is timely performance art that challenges the norm.
---
Mina Chan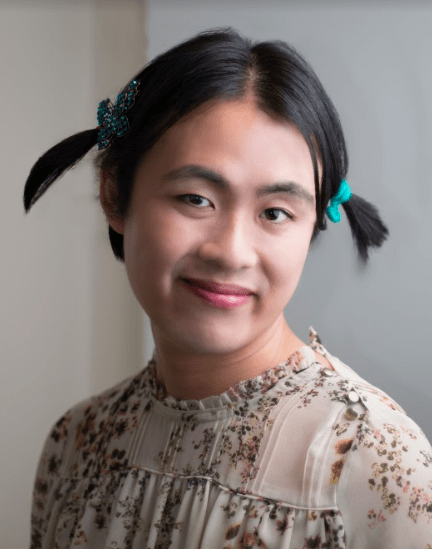 Drawing inspiration from fairy tales and folk songs, Mina invites listeners into a surreal fantasy world whose possibilities are only bounded by one's imagination. With her music, she wishes to convince people to believe in magic in the world around us.
---
Polymer Dance: Weathering Tales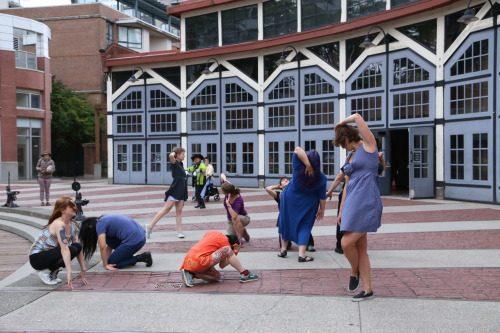 Polymer Dance's "Weathering Tales" is an ode to the future in which one day we have to live; a structured improvisation dance that brings a fantastical while abstract reflection on the detached responses that humans have to troublesome climate change threats and projections through movement, text, gesture and stillness
---
Priests of Melchizedek
Priests of Melchizedek bring their fathoms-deep vocals and a full-rocking five-piece band to the festival with all-original musical messages rooted in faith tested by life.
---
Ravensdaughter
Ravensdaughter's music carries the scent of her eastern European origins combined with more current flavours of folk, jazz, blues, with hints or R&B and a sprinkle of gipsy jazz. She sings predominantly in English, but occasionally also in Spanish, Swedish and Lithuanian. Her music changes and evolves with the influences from her travels, encounters and ceremonies.
---
Robin & Wren
Robin & Wren are bringing a unique sound to this year's Festival: Filk music. Related to folk, it's often called a sci-fi/fantasy/parody of Folk. Following the family tradition of music-making, son Robin and mother Victoria Gibson join forces with singing and electric guitar.
---
Vancouver Cantonese Opera
Cantonese opera (粵劇) is one of the major categories in Chinese opera, originating in southern China's Guangdong Province. It is a traditional Chinese art form, involving music, singing, martial arts, acrobatics, and acting.
Rosa Cheng is a talented Cantonese opera performer who offers a versatility and diversity of styles in her singing and acting. Mr. Paul Cheng is a martial artist and has great interest in Cantonese Opera at his young age.
---
Vancouver Poetry House Showcase hosted by Johnny Trinh
A select group of poets will share their work, hosted by Johnny D. Trinh with a guest feature by BC Culture Days Ambassador Alyssa Harms-Wiebe.