Thank you for a successful virtual VOAF 2020!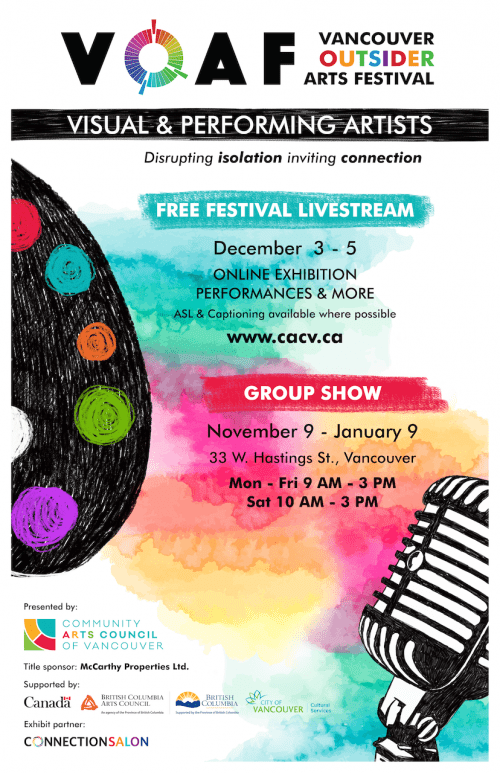 The 2020 Vancouver Outsider Arts Festival showcased an incredible group of artists on December 3 – 5 via live stream. We featured music, writing, theatre, dance, storytelling and profiles of both performers and visual artists in the festival; as well as an online gallery!
Special thanks to Title Sponsor McCarthy Properties Ltd.
Vancouver Outsider Arts Festival 2020 Online Exhibit
Livestream Schedule
December 3, 2020 6:00 – 8:00 PM
Performers:
Tsitsayxemaat (Opening Welcome)
Dalannah Gail Bowen
Jim Sands
Highs & Lows Choir
Mark McLeod
Visual Artists:
Montana King
Sam Salvat
Oli Salvas
Dec 4, 2020 6:00 – 8:00 PM
Performers:
Downtown Eastside Writers Collective
Vancouver Cantonese Opera
Delaney Rose
Visual Artists:
Linda Haftner
John Clinock
Penny Lim
Emily Hjermstad
Saori Hoshi
Melanie Stuparyk
Jacqueline Primeau
Kim Ridgway
Sara Yoemans
Martin Hunt
Dec 5, 2020 6:00 – 8:00 PM
Ibrahim Saker
Polymer Dance
SOUP by Trevor Copp & Johnny Trinh (play reading)
Visual Artists:
Tadafumi Tamura
Karen Vanon
Alex Levrov
Group Show
November 9 – January 9
Lost & Found Cafe
33 W. Hastings St
Monday – Friday 9 AM – 3 PM
Saturday 10 AM – 3 PM
VOAF is dedicated to supporting self-identified outsider artists who face social exclusion and other visible/invisible barriers to sharing their work.
---
Please email us at voaf@cacv.ca if you have questions. Thanks!