by Kelty McKerracher, DTES Community Arts Program Coordinator
"The arts are leaps and bounds past the political arena in recognizing our sovereignty on this land."
These are the words of Rosalind Williams, knowledge keeper of the Splats'in people, whose traditional territory encompasses Enderby, BC. For 15 years, Rosalind has worked with Cathy Stubington of Runaway Moon Theatre to bring the previously disparate communities of Enderby and Splats'in together with community-engaged theatre. Stories find expression in epic productions involving everything from giant puppets to percussion on the bridge crossing the river. Youth from the community find new ways to engage in their culture's oral tradition, particularly in their last play, Tuwitames, which deals with the theme of the 60's scoop, when huge numbers of Indigenous children were removed from their families. Rosalind's words make me proud to be working in the realm of the arts. The collaboration between these two women makes me believe that artists are a vital force in the evolving conversation between Indigenous and non-Indigenous people in this country, and in the struggle for Indigenous self-determination in Canada. Yet Enderby/Splats'in was just one example of dozens of places across Canada where this work is taking place: building relationships, sharing cultures, and telling truths about our country's history.
I was extremely fortunate to participate this spring in Train of Thought, a coast-to-coast cross-Canada train journey with stops in over 20 communities where intercultural community arts practice is bringing people together. Traveling by train, bus, and car, we were welcomed into homes, community centres, picnic shelters, galleries, and sacred circles to feast, make art, laugh, learn from each others' practice, and have the difficult conversations that so often seem out of reach. The project was produced by Toronto's Jumblies Theatre and supported by dozens of hosts across the country, significantly the Downtown Eastside's own Vancouver Moving Theatre. In collaboration with the local community, VMT produced a series of Big House Cultural Sharing Feasts at the Ukrainian Hall, which launched Tracks: The 8th Annual Community Play and Arts Symposium at the Roundhouse, which in turn launched the Train of Thought. The train departed on May 12, 2015 from Pacific Central Station with nearly 30 artists and collaborators on board.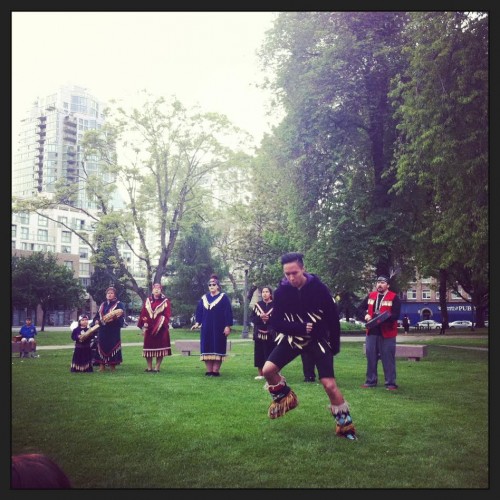 Ceremonial Send-Off from Children of Takaya (Tsleil-Waututh Nation) at Pacific Central Station
I undertook this journey (with the generous help of a professional development grant from the BC Arts Council) to learn more about intercultural community arts production: the ethics, aesthetics, and logistics as they are practiced across the country. It became clear as the journey unfolded that personal formation, values-alignment, and interrogation of my motivation and understanding were an integral part of professional development. Although I gained many concrete skills in the process, particularly through my participation in the Big House feasts, Train of Thought has given me a deeper sense of the "why" of community arts practice, without which the "how" matters little. Why create, or support, intercultural community-engaged arts work? Because it allows us to experience each others' humanity. Because stories are alive. Because we need each others' help. Because genocide occurred here.
In timely fashion, the final report of the Truth and Reconciliation Commission was released in early June 2015, while the Train was traveling through northern Ontario. It concludes beyond any doubt that genocide – not "cultural genocide", but genocide – took place as a result of government policies towards First Nations, Metis, and Inuit people. Nowhere else is this more apparent than in our own neighbourhood of the Downtown Eastside, which has been called the largest urban "reserve" in Canada. I am lucky to also work at the Drug Users Resource Centre, a vital project of the Portland Hotel Society that serves the large numbers of Indigenous people in our community who are most impacted by this violence. In the face of systemic oppressions, this community shows great resilience in its commitment to revitalizing culture. I think particularly of the "Culture Saves Lives" campaign, headed by Patrick Smith, Director of Aboriginal Health Services at PHS. What was incredibly important about Train of Thought was bringing together Indigenous and non-Indigenous artists to imagine a different relationship, one based on equity, mutual respect, renewed protocol agreements, a much-needed understanding of and deference to Indigenous law, and true cultural sharing between our peoples. And, most of all, to uphold our basic ability to witness, shape and respond to our world, together, through the arts.
Community Weaving Project in Winnipeg, MB with Cathy Stubington
The aesthetic of the Train of Thought journey as an artistic project was deeply intertwined with the ethic and quality of the relationship between hosts and guests. Each community welcomed us with unparalleled hospitality and sent us on our way with songs of blessing. Who could forget the train arriving several hours late to Edmonton, and our hosts receiving us at 2am with drums and food? Each host honoured the travellers by charging us to carry forward their teachings and priorities. I began to have the distinct feeling that a host of people were traveling with us beyond those who could physically undertake the journey – people who believed in what we were doing. We were entering into new agreements and new trusts, and this conferred a sense of responsibility on the journey that made me want to do better.
This is now the question I sit with: how can I do better in my role with the Community Arts Council of Vancouver, as a community-engaged artist, as an Expressive Arts Therapist, but also simply as a person? How can I carry forward my responsibility – ability to respond – into this organization? The CACV has an opportunity to be an agent for change along with all of the inspiring collaborators across the country, and perhaps the first step is bringing more Indigenous voices to the table. One thing is sure: there is no time to waste. We (as people of settler cultures) simply must be braver, must risk making mistakes, must speak up louder as allies for our Indigenous colleagues and communities. As artists and art organizations, we have an important role to play in shaping our future, and an exciting opportunity in supporting Indigenous artists and companies. Despite devastating cuts targeting organizations in our neighbourhood such as Gallery Gachet, we must keep fighting the good fight and finding ways to make art together – because as Rosalind Williams reminded us, the arts are leading the way.
To learn more about Train of Thought and read the travelers' blog, visit TrainOfThought.co
Train of Thought logo design by Lou-Ann Neel