Jason Bouchard is the lead artist for the CACV Creative Pathways contribution to the annual Spring Festival event to celebrate the Lunar / Chinese New Year.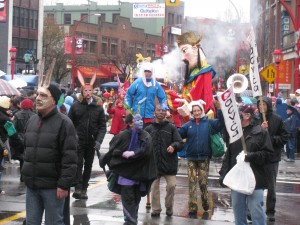 Our event started at Victory Square with musicians and performers and parade to Chinatown to be part of the celebration.
Jason facilitated workshops so that community members can be part of the preparations for this event.
CACV's Activities Committee organized rabbit ear making crafts at Dr. Sun Yat-Sen Classical Chinese Garden. This is the third community arts activity we've done at the garden and we look forward to many more happy collaborations.
On Thursday, February 3, the Thursdays Writing Collective used some "rabbit prompts" for their writing.
Here's the story of the 12 animals:
The Story is as follows:
Long ago, the Jade Emperor of China decided to create a means of deciding time so he told all the animals that the first twelve animals across the river would be the winners and they would have a year of the zodiac named after them.
The Rat and the Cat jumped onto the Ox's back and had almost reached the other bank when the rat pushed the cat in order to be first, this is the reason cats neither like mice or water and never attained a position on the zodiac. Just before the Ox was about to climb ashore, the Rat jumped onto land to become the first animal on the zodiac, the Ox was the second. The Tiger clawed his way to the river bank to claim third place.
Fourth place was awarded to the Rabbit who had hopped across on stepping stones a floating log.
The Dragon was fifth because he had been delayed helping the other animals.
The Horse would have been sixth if not for the Snake who had clung onto one of its hooves and startled it backwards. Therefore the Snake took the sixth position and the Horse the seventh.
The next animals to arrive were the Goat, Monkey and Rooster who had worked together to cross, the rooster had found a raft and the goat and monkey had pushed it and cleared the weeds that were holding them back. Therefore the Goat became Eighth, the Monkey the Ninth and the Rooster the Tenth.
The dog was Eleventh because he had taken a bath.
Lastly, the Boar became the last animal of the zodiac. He had been late after snacking and falling asleep along the way and was therefore named the final animal of the Chinese Zodiac.
So it's the Year of the Dragon in 2012. Start thinking about your mask!