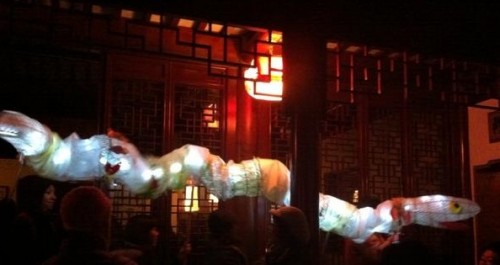 The 21st December was the winter solstice 2012, the longest darkest night of the year, and the night Dr. Sun Yat-Sen Classical Chinese garden was transformed with hundreds of beautiful lanterns of all shapes and sizes hung in the trees, stationed in the ponds, and guarding hidden alcoves and rock features.
The lanterns are traditionally created into a variety of shapes in the form of animals, insects, flowers, as well as some more adventurous ones including a giant Chinese tea set made fittingly solely from tea bags.  The night was certainly dark and thankfully remained dry which attracted large crowds into the gardens- the final stop on the procession which had started at the Strathcona Community Centre- winding their way around the narrow walkways, admiring the lanterns, stamping cold feet along to the sound of the rousing drums, eating sticky buns and drinking hot Solstice spiced tea.
This night was also of course the debut of the CACV snake lantern, created by the local arts community a couple of weeks before.  The completed lantern was truly a work of art.  Our master lantern creator Jacquie Rolston easily recruited a group of proud, eager children to lead the snake out into gardens, and each gripping onto a bamboo pole attached to the lantern they danced it out of its lair and through the crowds, accompanied by some very realistic snake-like hissing!  It was a fantastic sight, and it attracted a lot of attention from delighted members of the public.
The rest of the Community Arts Vancouver clan were ensconced in a room across the garden encouraging members of the public to contribute to our now traditional white cube lantern.  Children and adults alike got involved cutting pieces of coloured tissue paper into fantastic shapes and sticking them onto the lantern.  It always amazes me how creative people are- we ended up with a beautiful piece of art which has gone on to be hung up in the CACV office- a lasting reminder of the community spirit abound on this night.
Follow the snake from January 14-18 with workshops to create snake sculptures to be installed in the Chinese garden, leading up to the February 17 New Year parade.  More information can be found on our website at www.cacv.ca/snake