Disrupting Exclusion, Inviting Connection
Community Arts Council of Vancouver presents the second annual Vancouver Outsider Arts Festival (VOAF) offering visual and performing artists facing social exclusion and other barriers opportunities for exhibition and sales, performance and participation, connection and learning.
The 3-day free festival includes individual artists as well as organizational partners, workshops for artists and the public, and hundreds of artworks on display and for sale, alongside music, spoken word, live art, clown, and other performances in the Exhibition Hall, Performance Centre, and outdoor Turntable spaces.
Auction of John Ferrie's "@Scotia"
Supporting CACV & Vancouver Outsider Arts Festival!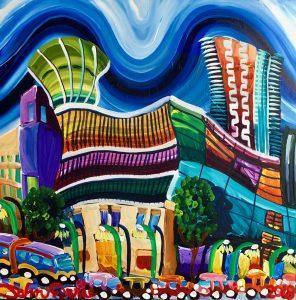 ---
Our deepest thank you, to all involved!
Artists
Robert Aki ::: Debbie Alvarado ::: Francis Arevalo ::: Milaina  Bennett ::: Brent Black ::: Steve Borton ::: Clarence Brear ::: Sophie Brunet ::: Alexis Bulman ::: Peter Carson ::: Stella Castell ::: Catherine Champy ::: Mina Chan ::: Vincent Chorabik ::: Scott Edward Colin ::: Amanda Contois ::: Grace L. Cuenca ::: Deb Dennis ::: Chantal Dorval ::: Downtown Eastside Writing Collective ::: Nancy Drewitt (Bramble) ::: Leef Evans ::: Behshid Farhangian ::: Brooklyn Fink ::: Victoria Gibson & Robin Holmes ::: Billy Hebb ::: Highs And Lows Choir ::: Richard Hildebrandt ::: Kimberley Marida Hurrell ::: Karen Irving ::: Jujube Jacinto ::: David Jordan ::: Sunroop Kaur ::: Christina  Kenton ::: Anna Khashchyna ::: Julian S.H. Kim ::: Lex Kinast ::: Minah Lee & Riley Anderson ::: Zain Meghji ::: Mpyress Flame ::: Blaise Pellegrin ::: Teresa Pocock ::: Polymer Dance ::: Rose Poon ::: Marianne Powley ::: Q & Frankie ::: Bonnie Ratchford ::: Jamie Rich ::: Ciele Rose ::: Julia Russell ::: Kevin J. Saukarookoff ::: Roberta Sciarretta ::: Seema Shah ::: Jerry Shallow & Beyond Broke ::: Jennifer Shepit ::: Colleen Soo ::: Ilya Stavitsky ::: Marlene Van Tassel ::: Mlt ::: Ben Westergreen ::: Holly Winters ::: Ben Young ::: Yours Truly
Vines Art Festival Performance Series
Lily Cryan ::: Naomi Steinberg ::: All Bodies Dance

Group Shows By:
Alternative Creations Studio
Sharon Bessey ::: Rosie Burns ::: Judy Chow ::: Samira D'souza ::: Fariha Farhat ::: Kathy Hockman ::: Heather Kingsbury ::: Tanya Kwan ::: Darren Lowe ::: Jessica Mcdaniel ::: Tina Parris ::: Deidre Snow ::: Sandra Stubbs ::: Mary Tang ::: Chris Tsen ::: Mark Wolak ::: Marty Wong ::: Richard Wong ::: Sally Zhou 
Coast Mental Health
Nina Aldewood ::: Nigel Kent Barber ::: Leo Gallibois ::: George Haddad ::: Michelle F. Harris ::: Chloe Lavallee ::: Martin Murphy ::: Bernard Pellerin ::: Jerry Shallow ::: Shane Sinclair 
MPA Society
Jim Boyes ::: Sam Chui ::: Gary Dumas ::: Mildred German ::: Jason Gross ::: Michael Henderson ::: May Li ::: Lillian Lui ::: Cheryl Morton ::: Timothy Paquette ::: David Petersen ::: Joseph Plock ::: Tyler Thompson ::: Annie Wilson
Plan (Planned Lifetime Advocacy Network)
Elsie Charyna ::: Jacynthe Geschke ::: Joan Gorman ::: Shara Gutsche ::: Eric Johnson ::: Tara Leroux ::: Lyle Lexier :::
Kirsteen Main ::: Chantal Martin ::: Michelle Mcdonald ::: Jim Nairn
Guest Speakers:
Rebecca Campbell/Tsitsayxemaat
Sam Sullivan, CM
John Ferrie
Jeff Wilson
Festival Team:
Eric Rhys Miller :: Executive Director
Pierre Leichner :: Founding Artistic Director
Lisa Goebel :: Festival Coordinator
Anthony Liam Kearns :: Event Manager
Johnny Trinh ::Program Manager
Kelsey Savage ::Communications Coordinator
Rebecca Rolseth :: Graphic Designer
Tom Quirk :: Photographer
Organizing Committee
Jane Guy, Edzy Edzed, Karen Irving, Seema Shah
CACV Board Of Directors
James Carter, Denise Cooper, Brittanny Downey-Macdonald, Shelley Freedman, Pierre Leichner, Stephen Lytton, Valerie Smaller
Thank You To All Our Festival Volunteers!
And Special Thanks To
Db Boyko, Sarah Cavanaugh, Liz Charyna, Alex Chisholm, Gilles Cyrenne, Justin Hachlaf, Terry Hunter, Mo Gaffney, Robin Gore, Deirdre Keohane, Katharine Knowles, Heather Lamoureux, Molly Mcdonald, Dave Mclaughlin, Ann Mountney, Matt Oviatt, Marcia Pitch, Alaric Posey, Heidi Taylor, Yolanda Weeks, Cindy Young
---
DISRUPTING EXCLUSION
Our primary values are inclusion and active participation towards strengthening a sense of community and creative citizenship among participants and the public. Eligible artists self-identified as outsiders and have strong creative practices, with wildly diverse aesthetics. 100% of sales go to artists, and performers are paid fees: this is a professional opportunity for outsider artists.
FREE PUBLIC WORKSHOPS
The festival aims to increase awareness about Outsider Artists and to challenge stereotypes about who and what counts in the art world. The festival provides a much-needed platform for visual and performing artists to gather, learn, and share their creative scope with Vancouver. PLAN, MPA Society, Coast Mental Health, and Alternative Creation Studios are all organizing group shows, alongside 46 exhibiting individual artists.
Free public learning workshops for artists include "The Business of Selling Your Art" on Saturday at 10 AM and "Writing Grants 101" on Sunday at 10 AM.
GENERAL PUBLIC: While the pre-registration for both of these workshops is full, there will be limited spaces available at door!
FESTIVAL ARTISTS: There will be seats are reserved for you! Check in at front desk.
Live Streaming: We're looking into live streaming options with the 'Facebook Live' feature. Make sure you are marked as 'Going' on Facebook to be able to access the Live Stream. (Writing Grants 101 will not be live streamed.)
To access the Facebook Live Stream, mark yourself as 'Going' to "The Business of Selling Your Art" with Karen Irving, taking place Saturday August 11th at 10:00AM here: https://goo.gl/hNoLJN
OUTSIDER ART IS DIFFERENT
This art shakes up what you think you know about art and sometimes delves headfirst into challenging social and political issues. This year's co-presentation with Vines Arts Festival brings All Bodies Dance and other artists working at the intersection of art and activism to the outdoor Turntable venue on Friday August 10 beginning at 12 PM, followed by a workshop on "Disability Justice" with Quin Lawrence on the Exhibition Hall stage.
INVITING CONNECTION…& HANDS-ON, VOICE-UP PARTICIPATION!
The festival program offers many ways to get your creative groove on with free art-making workshops including "LinoBlock Printmaking" with Edzy Edzed, and "Ekphrastic Writing" with Heidi Greco leading writing inspired by the visual art. Kulturelia, led by Aurelia Bizouard, offers all visitors a chance to paint with "Live Light Painting."
Be sure to also check out our Vancouver Outsider Arts Festival Facebook Event for event updates closer to the Festival!
SAMPLE ARTWORKS FROM SOME OF OUR PARTICIPATING ARTISTS!
A THANK YOU TO OUR FESTIVAL SPONSORS:
 
A closer look into the 2017 Vancouver Outsider Arts Festival