We are thrilled to announce the successful completion of the 2022 Community Arts Fund Project, "Perceptions of Dual Identities." This inspiring project was co-facilitated by Carolina Aguirre, an Art Educator and Multi-disciplinary Artist, and La Libélula Cooperative, a collective of Spanish-speaking immigrants from Latin America working towards an inclusive future for Latin American communities in British Columbia.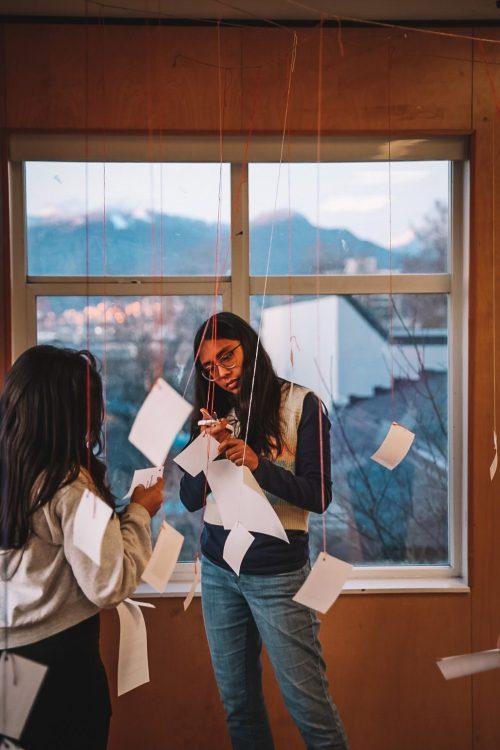 Their project connected with the vibrant Latin American youth in Vancouver and delved into the concept of identity, especially dual identity through a series of educational, creative writing, and art workshops. Twelve Latin-American teenagers gathered for five sessions of sharing stories, exploring the essence of being Latino-Canadian, and honing skills in photography, mixed media art, and creative writing to express their unique journeys. Each session supported the participants in connecting emotions to their migration stories and expressing them through abstract painting, exploring the topic of belonging through affirmations, and expressing their values through photography and creative writing. To see some snippets of these sessions, head to Carolina's Instagram, @arte_by_kro.
"I learned from this experience to able to identify more with myself here in Canada," shared Sofia, one of the project participants.
Another, Eder, said "I learned that art is not just drawings or painting, but that it is the meaning that you give to things, love and affection, and the way of interpreting it."
In their commitment to reaching more people, the facilitators also released their captivating artworks virtually on June 19, 2023. Check out the online showcase and be inspired by their talent and creativity!
We would like to offer our most enthusiastic congratulations to this amazing team, their participants, and heartfelt thanks to the Britannia Community Centre for hosting this project! Such initiatives foster strong community bonds, and we can't wait to share more successful Community Arts Fund projects from the past year.