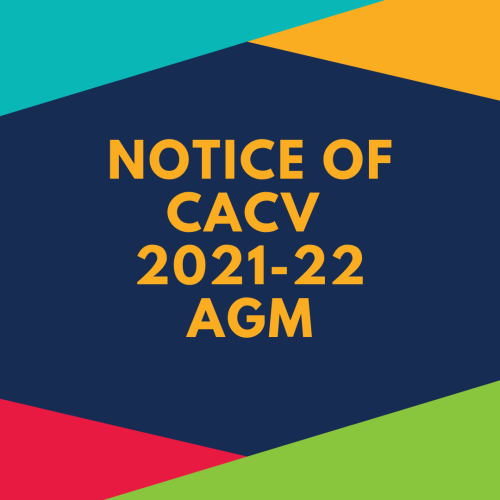 Join our 2022 Annual General Meeting
** UPDATE: It is the priority of the CACV to put the care and safety of our community first. With heavy snow, and high winds, expected in our city this afternoon and evening, we have made the decision to move our Annual General Meeting online. While we always appreciate connecting with you all in person, we hope you can join us on Zoom. **


We're excited to announce that our Annual General Meeting (AGM) for our fiscal year 2021-2022 will be held as a hybrid meeting both on Zoom and in-person on November 29, 2022 at 6 PM PST.

Please join us and meet with our members, board members, and staff as we share our successes and challenges for the past fiscal year.
As usual practice, the business of the AGM will approve the financial statements for the fiscal year 2021-2022 and reports from our Board President, Brittanny Downey-MacDonald, and Executive Director, Kristin Cheung.

You must be a member to join our AGM. Memberships can be purchased here. Memberships start as low as $15 for students/seniors and $25 for individuals. Join as a member online here.
Tuesday November 29, 2022
6:00 PM, Hybrid meeting
RSVP above for either the virtual option (via Zoom) or the in-person meeting that will take place at the Creekside Community Centre (1 Athletes Way, Vancouver, BC V5Y 0B1)
AGENDA
Welcome and Introductions
Approval of the Agenda
Approval of the AGM from previous year
Board Chair Report
Executive Director Report
Financial Report and presentation of financial statements of the year
Election of Directors
Q&A
Adjournment
A Board meeting will be followed immediately by the AGM for Board and Staff only.