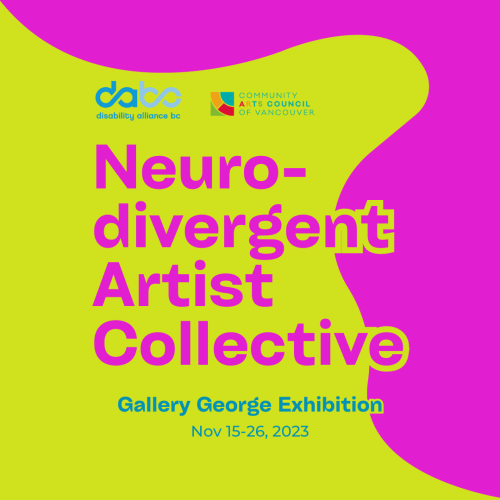 The Neurodivergent Artist Collective (NAC) is a new collaborative effort by neurodivergent artists in Vancouver to take space in a neurotypical world and works to dismantle invisible inequities in contemporary art spaces.
Members of the collective self-identify as neurodivergent and have felt alienated from engaging in the arts due to barriers such as a lack of access. The collective aims to be a safe space for folks facing socio-economic barriers, from differing cultural backgrounds, and of all sexual orientations and gender identities. The exhibition will feature NAC members:
Aliza Bosa
Amy (Yun Ru) Bao
Tuyết Ánh Judith Nguyễn
Aurore Dupont-Sagorin
Randall Bear Barnetson
Caitlin Callaghan
Chantelle Chan
Jae Lew
Jasper Berehulke
Leanna Manning
Mars Jarvis
Olusha Milley
Yes I Don't
Nov 15 – 26, 2023
The Gallery George, 140 West Hastings Street | @thegallerygeorge
GALLERY HOURS: Wednesday to Sunday | 12 – 6pm
Opening Reception on Friday Nov 17 from 6-9 PM – light snacks and beverages will be available!
The collective is hosted by the Community Arts Council of Vancouver (CACV) and this project is funded by Disability Alliance BC.