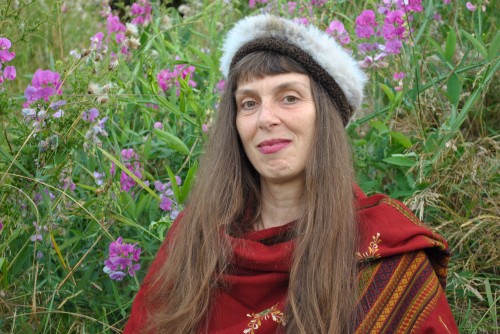 Congratulations to Naomi Singer, artistic director of the Secret Lantern Society for her award as the recipient of the Mayor's Arts Awards for Community-engaged Arts.
Celebrating Community Art
By Megan Sheldon, Narrative Communications
The days may be getting shorter and the light may be growing darker, yet there is reason to celebrate. For Naomi Singer, the creative genius behind The Secret Lantern Society, the Winter Solstice is a time to reconnect with yourself and your community. It is an opportunity to shine a light across the darkness, signaling that you are not alone.
Naomi Singer was recently awarded the Mayor's Arts Award in Community Engaged Arts. This award honours those in our community who bring people together and awaken their hopes and dreams. Naomi was chosen by a jury of peers for making a significant contribution to the community, and showing leadership, innovation and support for our cultural community over the course of her career.
I sat down with Naomi at a café and was immediately captivated by her story.
Megan: How did you first get involved in community arts?
Naomi: It was never a conscious decision to work in the arts; I grew up in a household that encouraged creativity, and I was told from a young age that I had talent as an artist. I decided to pursue drawing at Emily Carr and thought that I would stick to myself; precisely the opposite happened! I started organizing coffee night variety shows and realized that others were craving the same types of community events that I was.
Megan: What do the community arts mean to you?
Naomi: Community arts is about working with the community – taking direction from them rather than telling them how to do something. Events like the Winter Solstice Lantern Festival have different outcomes in each neighbourhood; it is based on who responds and what people get excited about.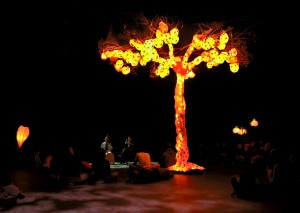 Megan: What does the Winter Solstice symbolize?
Naomi: People have an innate recognition that the lights we shine in the darkness inspire optimism for the future. I knew that the Winter Solstice was a universal celebration that so many cultures recognize. The solstice night is about creating opportunities for people to experience beauty, to become inspired, to participate and to connect with each other.
Megan: How has the festival changed over the years?
Naomi: When I first started the Winter Solstice Lantern Festival it was as one of the inaugural artist-in-residence projects that started at local community centres to engage residents in arts-based activities beyond typical recreational use. It was supposed to be a four-month project at one community centre and now, 18 years later, we celebrate the Winter Solstice in six different neighbourhoods, each one offering a different feel.
Megan: Tell me about one of your favorite lanterns.
Naomi: In Dr. Sun Yat-Sen Classical Chinese Gardens there is a beautiful Ginkgo tree. One fall, we went down and collected the moist leaves just before they fell and stored them in the freezer. When it was time to create our lanterns in December, we thawed the leaves and incorporated them into the lanterns to hang in that same Ginkgo tree. It was our way of giving the tree back its leaves.
Megan: You were recently awarded the Mayor's Arts Award. What does this award mean to you?
Naomi: It was a surprise when I first heard about it. I always think of the Secret Lantern Society as working in obscurity. When I went up on stage to accept the award and heard the applause and the cheers I was touched by this sense of recognition and validation.
Megan: You were asked to nominate another community artist. Tell me about your nominee.
Naomi: I chose Helene Bolduc. I have worked with Helene for years and I see her natural ability to engage people. She is calm and generous, and she knows how to direct people while also keeping them in the moment. It was a wonderful opportunity to recognize her efforts and give her some encouragement and support.
Megan: What would you like to see happen with community arts in Vancouver?
Naomi: I want to see each neighbourhood take ownership of community events like the Winter Solstice Lantern Festival, and I want people to experience themselves as an artist and as a participant.
Megan Sheldon is a story writer. Her company, Narrative Communications, works with artists, organizations and small businesses to draw out the stories that make them unique, and then weave those stories into a brand. For more information, please visit www.narrativecommunications.com or follow her on Twitter @Narrative_Ink
To see the full list as well as the peer juries for the Mayor's Arts Awards 2011, click here.
Community Arts Council of Vancouver are proud to be associated with The Secret Lantern Society by offering a community-created lantern at the Dr. Sun Yat-Sen Classical Chinese Garden site in the Downtown Eastside since 2009. Photos of our project will be posted here.