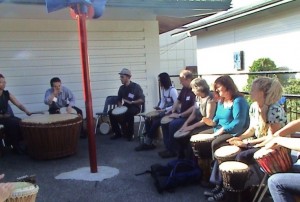 Lyle Povah: rhythms of the body and mind
written by Kirstie McCallum
Lyle Povah is a performer with a special interest in African drumming. He has studied and performed worldwide as a musician and educator, particularly in the areas of  health and creativity, leadership, community building, eating disorders, autism and intergenerational learning.  He was a participant in the Community Arts Council of Vancouver's Culture Days panel discussion on the role of art in communities on September 25th at Britannia Centre.  I caught up with Lyle in the week  following Culture Days for an interview.
As Lyle explains, drumming is a social activity that can have a strong impact on a community.  One way  that he uses drumming as a community-building tool is through workshops in hospitals, working with people with addiction issues and eating disorders.  I asked him a series of questions about his work:
Q: Can you describe the work that you do around healing and music?
"People are drawn to drumming," says Lyle. "This work allows people to play an expressive instrument that is a communication tool.  It expresses emotions that we feel in the moment, and it allows us to look both inward and outward.  I encourage people to explore what they are feeling through the drum."
People who participate in his workshops report that the experience evokes a healing response. "I use music and rhythm as an expressive tool to cultivate wellness," says Lyle."Drumming evokes a visceral, body-memory of the self  when it wasn't ill."
Q: Why is drumming important to this work?
As Lyle explains, the physicality  of the drumming has a significant impact on the minds and bodies of workshop participants, for example, people with addictions or  obsessive thoughts of eating.  They report feeling free of their illnesses during the workshops: "I was absolutely free from the eating disorder for a whole hour," says one participant, while another says, "I feel connected to the inside and outside like I haven't in a long time."
"The physicality of the drum is very important," says Lyle. "Partly it is that the physicality gets us more in touch with our internal rhythms.  People will say they have no rhythm but this is not true — we all have the ability to engage with rhythm.  The rhythm is meditative, and this causes the mind to be more calm.  The physicality of the activity brings us more into the core of the body – from the head more into the heart."
Q: What led you to this model of art as a social service practice?
Lyle explains that he has had a lifelong interest in music: he was a kit drummer since the age of nine, and later played guitar and travelled, making a living as a musician at different times.  Then in 1994 he travelled to Ghana for the first time.  He stayed for four months,  and the trip transformed his relationship to music. He was  seeking new musical inspiration, but did not realize at first the transformation that would overtake him through his experiences with the traditions of African drumming in that country:   "I had no idea of the depth of the gift I was given – to take this precious knowledge back to the West and to use it for healing. I went from playing music for an audience to playing music with a community.  Over time I was able to see that this work can go across North America – there is nowhere that it can't be used to reach out to people." In addition to a return trip to Ghana in 2007 for five weeks, Lyle tours regularly and has worked in Germany, throughout the states in Children's hospitals from Cleveland to Seattle, and from San Francisco to Winnipeg to Toronto.
Q: What is the role of art in communities, and how can we support and enhance this?
Lyle sees a need for artists to break out of confining definitions of their social role.  He suggests that in Western cultures, artists often get stuck in a stereotyped  role that is highly individualistic yet disempowering, — what he calls "the poor artist syndrome."  Rather than seeing art as focused on the individual, he suggests that there are more dynamic and communal ways of making art: "What I experience as powerful is artists coming together and collaborating.  Individuals have the responsibility to look at ourselves and discover ways to live in a more healthy fashion, better ways to live in the world."
In his own work, Lyle sees a twofold dynamic that ties his art to community.  He explains that drumming is an art that needs to be shared, and through shared activities we are able to learn about both ourselves and others.  In this mode of thinking, art is essentially rooted in community. "If  you hold a drum circle outside they gravitate towards it. There is always a thread of community in this work, and when we engage in activities that engage community we also improve health."
"Art holds the role within society to imagine what is possible for the human condition.  Artists have taken that role throughout history.  Artists have the ability to imagine what we can be.  Artists can point to changes we need to envision and can communicate those changes."
Go here http://lylepovah.com/ for more information on Lyle's work with African drumming.
Lyle facilitates a  weekly drop-in 'Beat Street Community Drum Circle'.
An inter-generational, multicultural and weekly rhythmical celebration, all ages and stages welcome, first-time-beginner-friendly, wheelchair accessible (advance notice required), drums and instruments provided.  Jericho Hill Centre, 4196 West 4th Avenue, Sundays drop-in (September-June), 3-5 p.m. (Note: no circle November 7, 2010)  Regular fee: Adults – $10; Children under 16 years, seniors, special needs – $7 (includes drum); Family – $25; under 4 years old free.