On Friday, October 4th, my mother-in-law died. I had been taking care of her for two years since both her husband and her only son (my husband) died. I tell you this because it is pertinent to what happened Wednesday evening, October 9th, at the Eco-Arts salon. It was my first experience with an Art Therapist.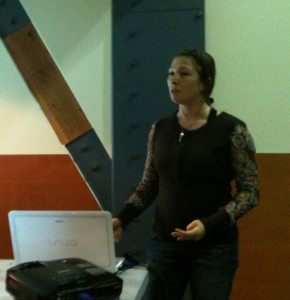 Nicole Parekh is studying for a degree in Expressive Arts Therapy. Her audio-visual presentation on her own art was informational, professional and visually beautiful. Nicole engaged genuinely and easily with the small audience and made everyone feel at ease, comfortable asking any kind of questions. After her excellent presentation we took a small break and everyone pitched in to set up the space for art making, with almost no direction from me. It just happened, organically. We spent the next hour making masks out of recycled cardboard, leaves, chestnuts, twigs, bits of wool and string and a lot of imagination.

The masks represented various aspects of nature, whatever the participants felt we related to. When the masks were completed the "creatures" held conversations in pairs, then the Council of All Beings was convened. I won't describe it. You have to come experience it. I was so profoundly affected by this evening. I came into it completely disfunctional, barely able to put one foot in front of the other. I came out of the evening feeling alive, at peace, happy. This, this is why I do what I do. Art cannot be measured in numbers. Not dollars, not the number of people who attend an event. Art is measured by these profound effects on those who engage with it, whether it be by creating or just observing. This is what it is all about.
The next Eco-Arts salon will be held on February 26, 2014.
By Diana Joy