An eagerly interested group gathered in Room C at the Roundhouse Community Arts and Recreation Centre Wednesday evening to take in a presentation by socially conscious fashion designer Nicole Bridger.
Nicole was born and raised in Vancouver and received her BAA in fashion design from Ryerson University in Toronto. During an internship in London with Vivienne Westwood, Nicole learned the art of sculpting, draping and layering fabric. It was here that she began to realize that her talent for fashion design could also be used as a vehicle for positive social change.
In 2006, Nicole aligned herself with Chip Wilson of Lululemon. Together they founded Oqoqo, a pioneer in the North American eco-fashion market. After her experience nurturing the growth of Oqoqo, Nicole was poised to unite her passion for high fashion and eco-consciousness, and in 2008 she founded Nicole Bridger Design.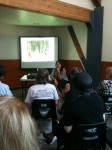 I had expected an informative, interesting and professional presentation from this artist. I had not expected to be so inspired by her soft and easy manner, her love for her work and our world, and her deep and true belief in following one's passion. Each of Nicole's fashion collections are inspired by her own life, the needs and feelings of each phase that she moves through. It felt like everyone in the room could relate to that and the many questions and comments from the salon participants were intelligent and engaged.
Please come join us for the next Eco-Arts Salon on Wednesday, August 28th at 7:00 pm at the Roundhouse. Watch our website for details of the event.
by Diana Joy