Hey,
Hope everybody is enjoying the beautiful weather; sometimes I complain about the heat – but fast upon that thought comes the remembrance of the long, dark days of winter. And the heat is preferable, way more preferable than the dark. What do you think? Is it easier to be creative in the summer? Creativity being any act of living; cooking, painting, making music, writing, clothing, gardening. Maybe you can post a few more ideas of your own. It would be interesting to see what we can, collectively, come up with. Upcome with? With come up? Okay, I'll stop.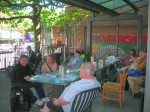 Okay, so these are a few of the art activities that happen in the summer/fall season.  In alphabetical order:
Carnegie Community Centre
401 Main Street
Art room phone 604 665 3014
Reception Phone 604 665 2220
Drop in art classes, Mondays and Fridays
Some workshops scheduled
12:30 to 3:30 pm  in basement art studio
Co-coordinator Lisa Walker
Cultural Sharing, every Monday – start in September
5 to 8 pm in main floor theatre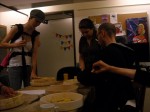 Hosted by Les and Marvin
'Artist in Residence' Haisla Collins
Arts & Crafts Drop in
Tuesdays and Wednesdays
3 to 6 pm
Workshops – Thursdays
1 to 4 pm basement art studio
Co-coordinator Haisla Collins
Enterprising Women Making Art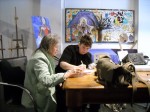 Self-identified women only
Drop in and open studio for arts and crafts
Hours vary
84 Cordova Street East
604 685 8043
Coordinator Jessica Numminen

Oppenheimer Park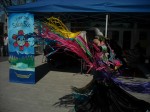 Drop in
Arts, Crafts activities and Festivals scheduled
Tuesdays to Saturdays
Coordinator Sandy MacKeigan
604 253 8830
Powell Street Clinic
Therapy and other Art of Living Sessions for men and women
Tuesday Evenings for Self identified women only – Art of Living and planned arts and crafts activities 5 to 8 pm
569 Powell Street
Switch board 604 255 0314
W2 Community Media Arts
Media Arts, Visual and Performing Arts
workshops and events
111 West Hastings Street workshops and events
604 689 9896
W2 Media Cafe – delicious food and drinks
I have a request to make of all you; it would help very much to provide the information you want, like, need in this blog, because, in the end, it is about you.
Would you like to see artists/artisans of the Downtown Eastside featured in this blog? Or,
Would you like to have this blog report on galleries and social organizations that provide services to the Downtown Eastside?
Please let me know, and also if you have names of people or places  that you would like to see featured in this blog.
Many thanks and Happy Summer
Stay Safe
Karenza