We are planning for two Community Arts Dialogues for September and October – the last Saturday of each month, from 1-4pm.
Watch this space for details but for now – SAVE THE DATE.
You can register as below – details will be added as they are confirmed.
change of heART: self-empowerment by design – Sat. Sept 29 1-4pm
Art for self-expression and social justice – Sat. Oct. 27 1-4pm
Contact co-chairs, Amanda Peters and Jessica Craig, at activities@cacv.ca if you'd like to make suggestions or keep up to date.
You can also sign up for our e-newsletter at cacv.ca/newsletters and be sure to get all the news that fits.
In the meantime, here's the graphic recording from Sam Bradd from our dialogue in early July.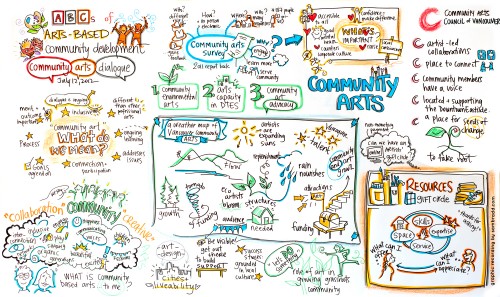 Thank you to UBC Learning Exchange who are partnering with us – providing their great space for lots of conversation, art-making and social media engagement.