NEWS: This event is "sold out" at 100 participants – with another 100 on a waitlist.
We are video-recording all of the large group sessions and it will be posted within 4 weeks.
Note-takers will be at breakout sessions and notes will be posted.
We are delighted at the response and the mix of people and organizations attending.
The organizing committee will get together after the event and look at next steps, likely including an event for next year.
We are partnering with the City of Vancouver Cultural Services, Vancouver Park Board and Emily Carr University of Art and Design to present a one-day event on November 30 at Emily Carr. See below for details and registration link. Several of us from Community Arts Vancouver (including myself, Mary Bennett) will be attending and we look forward to seeing you there.  Visit community arts dialogues for more about upcoming dialogues.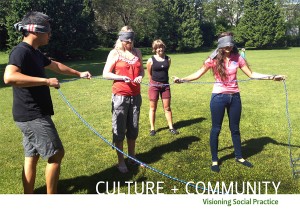 Emily Carr University of Art and Design (Motion Capture and Stereographics Studio)
You are invited to:
CULTURE + COMMUNITY – Visioning Social Practice
Friday, November 30th, 2012
9:00 am – 4:30 pm
Emily Carr University of Art + Design
1399 Johnston Street, Vancouver, BC
This day aims to build an understanding of the current state of community engaged arts practice in Vancouver and to identify strategic directions for continued success into the future. It is presented by partners in community and culture: Emily Carr University of Art + Design (Faculty of Culture + Community and Continuing Studies), the City of Vancouver (Cultural Services and Park Board) and the Community Arts Council of Vancouver.
Community cultural development, social practice, participatory engagement – these are ways we describe artistic and cultural practices that engage citizens around shared ideas and interests with the goal of effecting meaningful change for the people involved.
Culture + Community – Visioning Social Practice is ideal for artists, arts and community organizations, community leaders, educators, funders, businesses and other interested individuals who would like to explore this practice and discuss further:
What does community support look like for artists working in social practice and what are some models for partnerships and collaborations?
What are our larger goals of engagement with audiences and public participants?
What are the practices and the gaps in training and education for those who want to work in community engagement?
How are organizations, institutions and businesses engaging the arts and what constitutes success and failure?
Registration is FREE but there will be a charge of $10 for 'no shows'.