Carolyn Wong is coordinator of the Hope in Shadows Calendar and will be speaking at the Community Arts Dialogue Saturday, October 27 1-4pm.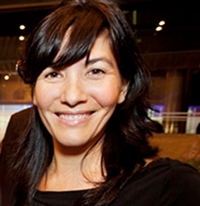 Carolyn Wong has worked as the project coordinator for Pivot's Hope in Shadows project since 2008. She has a background in communications and community arts and has been involved with projects such as Fearless TV, DTES Community Arts Network, Roundhouse Youth Theatre Action Group and Radha Yoga. Her commitment to Hope in Shadows has helped create storytelling and job opportunities for hundreds of Downtown Eastside residents. At this dialogue series, she will talk about how Hope in Shadows uses photography, storytelling and one-on-one interactions to build understanding of the Downtown Eastside community and to shift perceptions. She will present alongside Hope in Shadows photographers and vendors, who will speak about their personal experience with the project.
Carolyn was on the CACV board from 2007-2008.