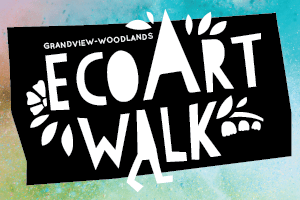 Community Arts Council of Vancouver
in association with
Britannia Community Services Centre & Green Streets
CITIZEN ARTISTS WANTED
"EcoArt Walk" invites citizen artists in Grandview-Woodland to create temporary eco-art installations in Green Streets Gardens.
We hope to seed-bomb artworks that fertilize civic conversation at the meeting place of people, ecology, and creativity.
Interested? Attend an information session and complete a proposal with our help!
Artists or groups will send us one page on your idea including the concept, scale, materials…remembering that even temporary public artworks in these areas must maintain visibility for pedestrians, bicyclists, and vehicle drivers, and must be structurally sound and safe.
We strongly urge all potential citizen artists to attend an info session to learn more, spark ideas, and/or work on preparing your proposal.

Submissions to eco@cacv.ca through March 16, 2018
Approximately 20 installations will be created.
An honorarium of $ 100 will be provided to each artist or group.
INFO SESSIONS
at Britannia Ice Rink, Mezzanine Room
Wednesday, February 21st 7:00pm – 9:00pm (ASL Interpreter provided)
Saturday, February 24th 1:00pm – 3:00pm