Aboriginal Community Liason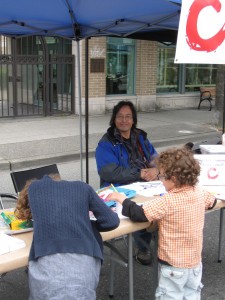 Burton Amos is an artist.
He joined the board in November of 2010 and has been active on the Activities Committee. The board recently appointed Burton as our Aboriginal Community Liaison and he is also a member-at-large on the CACV board.
For the Aboriginal Day at Oppenheimer Park, Burton created an original drawing of an eagle for kids to colour. He's offered to create a new drawing next year. The sheets were available at Car Free Days and we recently had a visitor (with her mom) to the office, who was delighted to work away and leave her page as a gift to us.