presented by Community Arts Council of Vancouver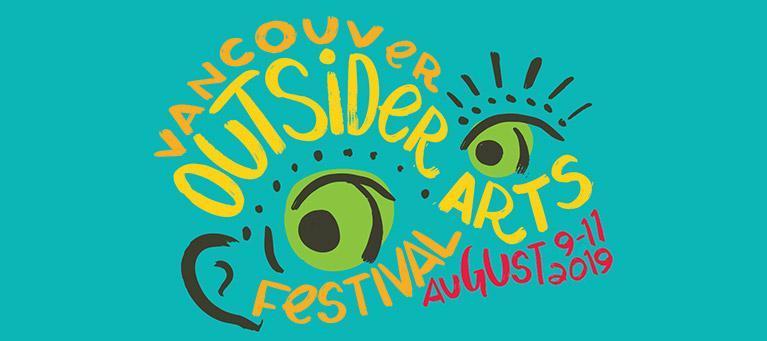 View festival hours, location & schedule here
Absentee Bids: Rules and Requirements:
WHAT IS AN ABSENTEE BID?
An absentee bid is your written instructions directing the Community Arts Council of Vancouver to bid for you on one or more pieces of art in the Silent Auctions, up to the maximum bid amount you specify for each piece.  The online auction is live from July 31st to August 11 at 4 pm. On Monday, August 12 an anonymous Community Arts Council of Vancouver representative will confidentially bid on behalf of all absentee bidders.
HOW MUCH SHOULD I BID?
Your bid should be the largest amount you are willing to pay excluding tax. The representative will attempt to execute your bid at the lowest possible amount as determined by the starting bid (minimum selling price) and competing bids. All bidders are encouraged to submit a minimum to maximum bid range (indicating how high they are willing to bid in the case of a tied bid). All final bids are subject to 7% tax on top of the final bid amount. Shipping within the Vancouver area donated by Denbigh Fine Art Services, other locations will be arranged with CACV.
LIVE AUCTION BIDDING :
There will not be a live auction, all bidding will be absentee bidding or bids placed confidentially in a ballot box at the VOAF in the Exhibition Hall.
SILENT AUCTION BIDDING:
The starting bid is approximately 50% of the estimated value of the artwork as determined by the artist.
IMPORTANT:
A valid credit card number is required to hold all absentee bids. All bids are subject to a credit card pre-authorization.
HOW CAN I ARRANGE AN ABSENTEE BID?
You can arrange an absentee bid by filling out the bidding form (online form found at bottom of page) and returning it by one of the following methods:
Complete the form online to submit a bid. If two or more parties leave identical Absentee bids, the first bid form to arrive will receive precedence. Any bid submitted which is below the asking price will be disqualified.
Fill in a form available at VOAF and deposit in the designated ballot box located in front of the auction artwork on display.
Complete the form (provide only the last 4 digits of your credit card and you will be contacted for complete information if you are the winning bid)
ALL BIDS WILL BE KEPT STRICTLY CONFIDENTIAL AND MUST BE RECEIVED
NO LATER THAN
SUNDAY, AUGUST 11 @ 4PM (no exceptions)
HOW WILL I BE NOTIFIED AFTER THE AUCTION:
Successful absentee bidders will be contacted by Monday, August 19. Payment can be made using VISA, MASTERCARD, or CHEQUE.
Shipping (within Vancouver only) provided free of charge courtesy of Denbigh Fine Art Services Ltd. Arrangements can be made to ship artwork outside of Vancouver at an additional cost to the winning bidder.
FOR MORE INFORMATION:
Please contact voafauction@cacv.ca
---
VOAF 2019 ART AUCTION ARTISTS
---
edzy edzed
Edzy graduated from the University of Victoria in 1992, with a Bachelor of Fine Arts (Hons) and a commitment to lifelong learning in the field of visual arts. Since 1987, his primary focus has been analyzing painting through the filter of "Deconstruction" as described by the French philosopher, Jacques Derrida. Edzy has produced over 1,000 works during his career, but rarely exhibits in public galleries. In 2016, he exhibited a 30 year retrospective at Gallery Gachet in Vancouver, pictures from which can be seen here.
Presently, he is exhibiting a solo show at Vancouver's ANNEX Theatre at 823 Seymour Street at Robson. For a schedule for the ongoing performances at the ANNEX, click here. The show covers 32 years of Deconstructivism in painting. The show is free to the public 1 hour before scheduled performances until September 30, 2019; more info can be found here.
Lightspeed of Land, Sea and Air (2019), follows more than 30 years of painting on non-objectively gouged plywood after the famous phenomoscape paintings of Canadian artist Paterson Ewen. Paterson's work was strictly representational, Edzy's artwork is mostly abstract. There is a crossover in subject matter as demonstrated in this painting which deals with the 11 detections of gravitational waves from collisions between stars. It was observed that those collisions produced a release of the heavy elements from the periodic table including gold. The gouged concentric circles stand for the gravitational waves detected and the divine mathematics of our universe.
He is a member of the VOAF organizing committee and was a VOAF artist exhibitor in 2017.
50% of the proceeds support the artist
and 50% support VOAF programming
Artwork: Lightspeed of Land, Sea and Air
Artist: edzy edzed
Description: Acrylic Paint on Gouged Plywood
Size: 41″ x 41″ Diameter
Year: 2019
Value: $3,000
Opening bid: $1500 (increase in increments of $50, bidder lists maximum bid level)
---
LEEF EVANS
"The art, the paint, the brush is the only process."
Leef began painting 15 years ago at the Coast Resource Centre and has been painting nearly every day since accumulating over a thousand paintings. Painting seems to be the only effective way to assuage his chronic depression, a problem he has dealt with his entire adult life.
When he has finished a painting, he begins the next painting. The next painting is the most important part of the process. He tells people it is the verb, not the noun – It's painting, not the painting. For Leef and the other VOAF artists, the festival produces them all to the practical elements incumbent in a gallery environment. Evans has exhibited at various galleries in Vancouver such as Gallery Gachet, The Gathering Place and recently the Coast Mental Health's first Art Project Roadshow. He was the recipient of the Vancouver Foundation Small Arts Grants in 2013 and 2014; featured artist in CACV's annual fundraiser SWITCH 2012-2017, donated artwork exhibited at the Joseph & Rosalie Segal Family Health Centre at Vancouver General Hospital and exhibited artwork as a solo VOAF artist in 2017 and 2018 and is part of the Coast Mental Health Foundation group show at VOAF 2019.
50% of the proceeds support the artist
and 50% support VOAF programming
Artwork: Aquabus No. 6
Artist: Leef Evans
Description: Acrylic on Panel, 30 x 40
Year: 2019
Value: $800
Opening bid: $400 (increase in increments of $50, bidder lists maximum bid level)
---
JOHN FERRIE
Celebrated Vancouver artist John Ferrie has earned international attention for his vibrantly expressive landscapes, florals and figurative work. Through his art, Ferrie acts as an archivist and storyteller as he seeks to find the architectural gems and vivid moments that define the city in his eyes. He is a graduate from Emily Carr University art program. But it's the rhythms and grandeur of Vancouver that continue to spark Ferrie's attention. In his expressively lyrical style, Ferrie transforms the city's vast panoramas, jumbled perspectives, architectural gems and intimate corners with a pageantry of jewel-toned colours. His paintings appear both magisterial and marvellous. For over 30 years, Ferrie has made his art as if a theatrical illusionist spinning out vividly creative visual stories the way he sees Vancouver and the world around him. Filled with wit and charm, Ferrie's work dazzles the senses. He gave an Art Talk at the 2018 VOAF.
http://www.johnferrie.com/

100% of the proceeds from the sale of Ferrie's painting of the iconic Scotiabank Dance Centre titled @Scotia will support VOAF programming.
Artwork: @ Scotia
Artist: John Ferrie
Description: Acrylic on Canvas, 36 x36
Year: 2018
Value: $1500
Opening bid: $750 (increase in increments of $50, bidder lists maximum bid level)
---
KAREN IRVING
Karen is a self-taught artist painting in acrylic and oil. She began painting in 2005, and became a full-time artist in 2014. Her art has energy; transformation and movement, a living testament of blending textures, layers, shading and contrast. Her work transcends on an individual unique and a hidden journey of bold and vibrant colours. The subjects she chooses to paint are a glimpse in time of her life's accounts that give true meaning to her resilience, thought-provoking, and emotional journey. Karen has been an integral part of VOAF's success during its first three years as a member of the VOAF organizing committee, leading information sessions for recruiting artists, artist exhibitor for VOAF 2017 and 2018, and she led workshops on the 'The Business of Art'.
Carter's Beach is located on the South Shore in Port Mouton, Nova Scotia. A bright, bold and colourful piece full of vibrant energy created from memories of a recent trip to her home province. The artwork captures a clear hot day at the seaside, along a windswept track off the unidentified roads leading from the highway to a seaside area few could easily locate. On this day in July 2019, Karen and her mother spent time together, nestled under and old family blanket laid upon the endless white sand. Together they admired the stillness and the sunshine under the brilliant blue skies as they sat watching the ebbing tide. Mother & daughter time shared, creating indelible memories. The painting features straight lines of bold colour, light and shadows which combines a variety of techniques (pallet knives, 15 different brushes, 23 types of acrylic paints) and supplies (sand for texture and coffee grounds to provide the looks of wet sand and natural brown tones). www.artworkarchive.com/profile/karen-irving
50% of the proceeds go to the artist
and 50% support VOAF programming.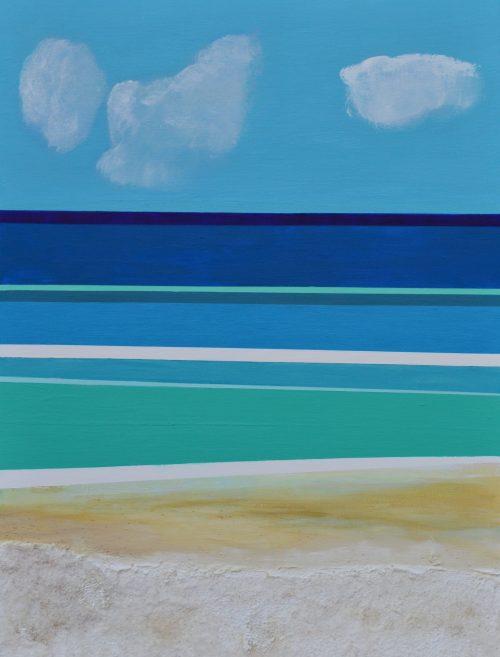 Artwork: Carter's Beach
Artist: Karen Irving
Description: Acrylic on Canvas, 30 x40
Year: 2019
Value: $600
Opening bid: $300 (increase in increments of $50, bidder lists maximum bid level)
---
Ready to bid?
Community Arts Council of Vancouver presents the third annual Vancouver Outsider Arts Festival (VOAF) offering visual and performing artists facing social exclusion and other barriers opportunities for exhibition and sales, performance and participation, connection and learning. VOAF is Canada's first and only festival for Outsider Art, which is represented by significant fairs and museums globally. The artists may be self-taught or trained: they are all devoted to their creative practices, and come from a point of view that is outside the mainstream art world trends.