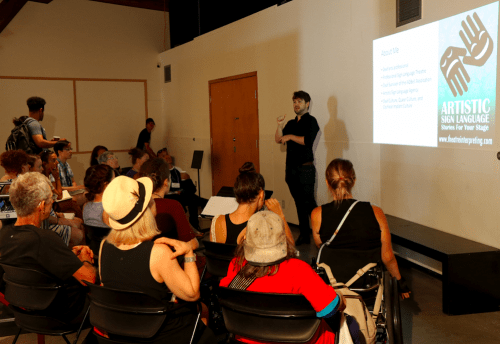 Landon Krentz presenting VOAF 2018 Disability Justice Workshop.
Photo credit: Tom Quirk
The third Vancouver Outsider Arts Festival (VOAF) will be held August 9-11, 2019. This 3-day free festival offers exhibition, sales, performance, learning and connection opportunities to Vancouver-based visual and performing artists facing exclusion. In 2018 we had over 1,200 people attend and sold over $ 10,000 worth of art with 100% of sales going to the artists!
VOAF is produced and organized by Community Arts Council of Vancouver in partnership with Roundhouse Community Arts & Recreation Centre and other local organizations.
VOAF's organizing committee meets roughly monthly (more in June & July) to help plan and carry out the festival in collaboration with CACV staff and Board members. Committee members promote the artist call, support artists in the application process, assist with artist selections, connect to workshop leaders, design and support festival events and celebrations, and help build the buzz for this growing festival. Other roles may arise depending on skills and experience of volunteers.
Anyone who wants to be a part of a vibrant, inclusive, socially-engaged vision of Vancouver is invited to join this joyful work!
Experience with outsider arts or community arts is helpful but not required.
Experience with events or festivals is a plus.
Contact us at voaf@cacv.ca or call 604-682-0010