Call for Outsider Artists!
Open Through May 31, 2021
Are you an artist or performer 19 years and older residing in the Metro Vancouver* area?
Do you face internal or external barriers to sharing what you do?
Want to learn more about being a working artist, and connect with other artists and audiences?
Ready to show/sell/perform your work?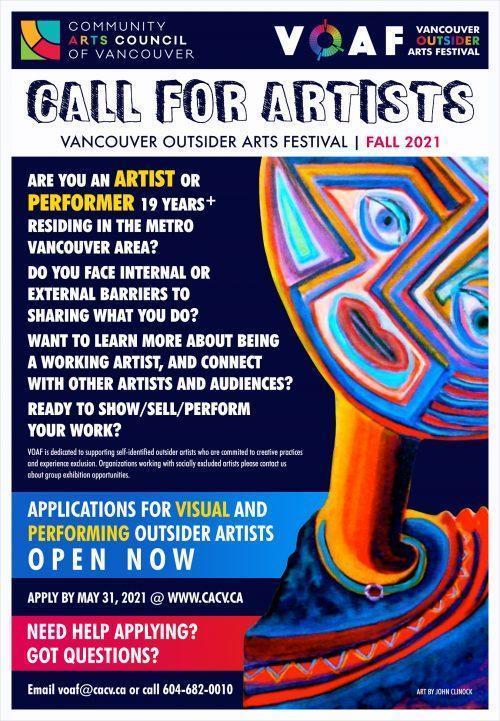 Vancouver Outsider Arts Festival
Fall 2021
VOAF is dedicated to supporting self-identified outsider artists who are committed to creative practices and experience exclusion
Organizations working with socially excluded artists please contact us about group exhibition opportunities.
---
Applications for Visual and Performing Outsider Artists Open Now
Need Help Applying? Have questions?
We are offering Info Sessions where you will learn about the festival and get assistance with the application process.
To reserve your spot, please email voaf@cacv.ca
---
INFO SESSIONS:
Saturday, April 17 @ 10:30 AM – via ZOOM
Wednesday, April 21 @ 6:00 PM – via ZOOM
Saturday, May 8 @ 1:00 PM – via ZOOM
Wednesday, May 19 @ 6:00 PM – via ZOOM
Have questions?
Email voaf@cacv.ca or call 604-682-0010 and leave us a voice mail. We will respond ASAP.
---
Visual Artists: How to Apply
In 500 words or less, please tell us the following:
Provide Your Name, Email, and Phone.
Describe how you identify as an Outsider Artist.
Tell us about your practice: why do you make art, what form(s) or medium(s) do you work in? Are you self-taught or have you had training?
Tell us about your ongoing commitment to making art.
Tell us about your exhibition history, if any. Previous exhibitions are not a requirement.
Artwork image submission details:
2-D and 3-D artwork in any medium is accepted.
(Maximum width/diameter of artwork is 48″)
Video/digital media work samples up to 3 minutes in duration can be submitted for consideration.
Attach photos of four (4) artworks as .jpg files attached to your email. If mailing an application, please provide printed copies of the photos. We cannot return original photo prints.
Images should be examples of the type of work you would exhibit if accepted.
Attach a separate document listing each of the 4 images you are submitting for consideration in your application like the following:
See examples in ( )

– Last Name (eq. Smith)
– Title (eq. Summer Breeze)
– Year (eq. 2018)
– Medium (eq. Mixed Media)
– Dimensions (Width in Inches X Height in Inches) (eq. 24" x 30")
---
Performing Artists: How to Apply
In 500 words or less, please tell us the following:
Please include your Name, Email, and Phone.
How do you identify as an Outsider Artist? What kind of work do you make, and why? What is your history of performing? What barriers do you face to sharing your work?
Describe your performance including duration (10-20 minutes recommended)
Please specify the number of performers, technical requirements, and whether you could perform outdoors if needed (tent provided)
Please attach links to a video of the intended piece or another that represents your work.
Submission e-mail and mailing address can be found at the bottom of the page.
---
How Will We Choose?
Our primary value is the inclusion of self-identified Outsider Artists who have committed artistic practices, are ready to participate, and will benefit from the opportunity. Staff and outsider artists from our festival advisory will determine eligibility. Live exhibition and performance slots may be limited and curated. Through an online exhibition and live streaming, we plan to have enough capacity to include additional artists in the virtual festival.
---
Contact Information for Applications:
Apply by email: voaf@cacv.ca
Apply by mail:
CACV
440-111 W Hastings Street
Vancouver BC V6B 1H4

Email applications accepted until midnight on May 31, 2021; Mail-in applications must be postmarked on May 31 latest.
Find out more about Community Arts Council of Vancouver at http://www.cacv.ca
*Self-Identified Outsider Artists residing in Vancouver, Burnaby, Richmond, New Westminster, Langley, Surrey, Maple Ridge, Coquitlam, Port Coquitlam, Port Moody, North Vancouver, West Vancouver are all eligible to apply. Some preference will be given to those residing in the City of Vancouver according to the mandate of the Community Arts Council of Vancouver.