Vancouver Outsider Arts Festival
Fall 2021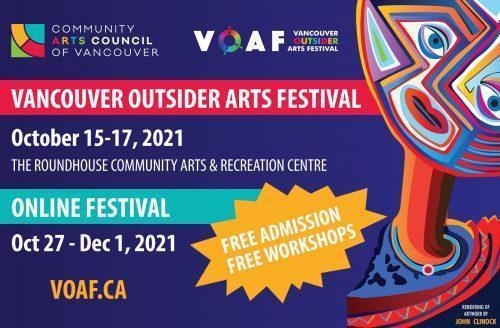 VOAF will take place at The Roundhouse from October 15-17, and will feature visual art, performances, and workshops throughout the centre.
Free Admission
Free workshops
Time:
Friday October 15, 12:00 – 7:30 PM
Saturday October 16 -12:00 – 5:00 PM
Sunday October 17 – 12:00 -3:00 PM
Satellite Location: Connection Salon at Lost + Found cafe at 33 W Hastings St, Vancouver.
Online Festival – Oct 27 – Dec 1, 2021
Visual Artists
Alan Poon, Alex Lavrov, Althea Adams, Andrew Woods, Angel Strehlen, BeAndra Jacqueline, Beth Wilks, Cassie Yu, Chuck Heilman, Charlie Sandeman, Japhy Ryder, Jacqueline Primeau, Jason Young, Justin Erickson, Leef Evans, LeiGh Press, Linda Haftner, Miaad Eshraghi, Mohamed Foda, Olga Evseeva, Pax North, Rojina Farrokhnejad (RJ), Rose Poon, Sandra Yuen, Shamsah Mohamed, Stevie Broome, Tadafumi Tamura & Saori Hoshi, A.J. Stewart (Arwen Joy Stewart), Zac Cocciolo, Riser World
Performers
Anjalica Solomon, Bero Saker, Cheryl Hutchinson, Dalannah Gail Bowen, Elysse Cloma, Franz the Poet, In Fuse, Kids of the Frozen Coconut Collective, Jim Sands, JoeChow, Kiranjit Shoker, Krystal Garib, Madd Jazz Live, Robin & Wren, Sajia Sultana Kabir, Tomoyo Yamada & Xinyue Liu, Tze Liew
Schedule information and registration coming soon!
The Roundhouse Community Arts & Recreation Centre is located at Pacific & Davie. Address: 181 Roundhouse Mews, Vancouver
Special Thanks to our partners and sponsors: BC Arts Council, City of Vancouver, Canadian Heritage, CITR, The Roundhouse Community Arts & Recreation Centre, John Howard Society, OPUS Art Supplies
Save the date, we hope to see you there!
VOAF is dedicated to supporting self-identified outsider artists* who are committed to creative practices and experience exclusion
Organizations working with socially excluded artists please contact us about group exhibition opportunities.
---
Applications for Visual and Performing Outsider Artists are now closed.
HAVE QUESTIONS?
Email voaf@cacv.ca or call 604-682-0010 and leave us a voice mail. We will respond ASAP.
*Self-Identified Outsider Artists residing in Vancouver, Burnaby, Richmond, New Westminster, Langley, Surrey, Maple Ridge, Coquitlam, Port Coquitlam, Port Moody, North Vancouver, West Vancouver are all eligible to apply. Some preference will be given to those residing in the City of Vancouver according to the mandate of the Community Arts Council of Vancouver.