The Heart of the City
by Vitor Borba, a CACV Storyteller

The heart of Vancouver has a new device to pump its creativity, feelings and stories out to the entire city. Gallery Gachet, Oppenheimer Park and CACV worked together the past few years to create an art cart that will spread the artistic potential of the Downtown East Side across cultural festivals and events. The cart, carefully designed to be easily pushed by a pedestrian on the streets or pulled by a bicycle, will allow artists to sell their work and to get the visibility they deserve.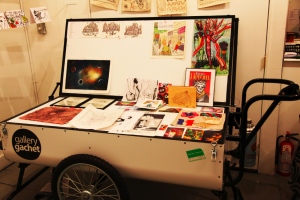 Phase one of the project consisted of designing the cart. Creative ideas that ensure the good functionality and practicality of the prototype sprung out of brainstorming and consultation sessions. Building the cart was phase two, which was concluded at the end of March. Now, as phase three kicks in, Gallery Gachet wants to explore the possibilities this new invention will open not only to artists but to Vancouver at large, since the cart, literally an ambulant art gallery, also aims at creating more urban creative spaces around the city.
As the cart gains momentum, participants and organizers of this grassroots project attempt to keep its authenticity by preserving its collaborative character. Artists from the DTES who have been trained to use the prototype are supposed pass on the knowledge to other users and every new step forward in this effort to spread art is taken collectively. As the streets of Vancouver open up for the art cart, art and creativity flows in from its very heart.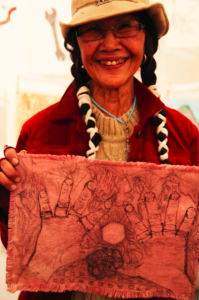 From Roma, one of our Storytellers:
"Art Cart is so much more than just another initiative to promote DTES artists – it's a vessel that truly displays that the arts revive the soul and the community.  Although high tech in it's form – the art cart is going to provide a unique pipeline for these artists to continue healing and relate their message.  I had the priviledge to speak to few of the artists and the passion and conviction they all have to ensure that the arts remains a part of their community was truly inspiring.  I hope to see many kilometres on that bike…"
The CACV Storytellers will follow the journey of the Art Cart over the course of a year.  Stay tuned for the next story!
Photography by: Roma Ahi
The CACV Storytellers
A group of volunteers who capture the stories and experiences surround the CACV and the impact of community arts in Vancouver. From writing and poetry to photography and video – we are always on the look out for new storytellers! Email Megan Sheldon megan@cacv.ca for more info.