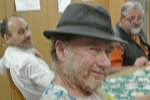 I just listened to an interview with Lou Reed, an old interview, some time in the 1970's where he has great fun with the journalists, all straight faced.  You can listen to it on uwall.tv.
Okay, so this is not what the headline to this post says, but thought it would be nice to see how hard I work to get this blog out:)  Oh, right, and I also listened to Jeff Beck while making the slide show.
This was the first year that the Carnegie Community Centre Art Program was part of the Swarm.  Kudos to (in alphabetical order) Haisla Collins and Lisa Walker of the Carnegie Art Program for getting this together.
The reason for this link to YouTube is that I have not figured out how to insert videos into this blog; am working on it though and believe solution is near.
http://www.youtube.com/watch?v=MzlEab1kfDQ&feature=plcp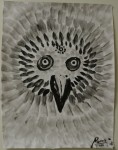 The coffee was hot, the biscuits – okay, cookies – were choclatey, the art was great and the coversation and ambience a typical Carnegie blend of convivality, commentary and humour.  And then we all went home.
Ta ta,
Karenza