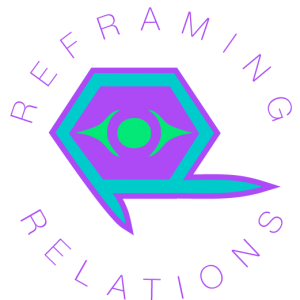 This spring, CACV brought on board 5 new artist-facilitators for our Reframing Relations program. They join CACV Program Manager Kelty McKerracher and Project Director Ronnie Dean Harris leading arts-based workshops in school and community settings that deepen engagement and understanding between Indigenous and non-Indigenous peoples. Our pilot program in schools is complete and we look forward to an expanded version of the program continuing in September! With such a stellar team of artists we are very excited about what the future holds.
Please welcome:
Brandon Gabriel – Kwlexwecten is a Kwantlen First Nation multimedia visual artist who graduated from Kwantlen Polytechnic University and Emily Carr University of Art and Design. Brandon has exhibited works in Hong Kong, England, Scotland, the US, and across Canada. His works also appear on book covers, in film, television, and in exhibitions.
Kim Villagante also known as Kimmortal is an artist based on the ancestral unceded land of the Coast Salish people.  As an artist of lines and rhymes, as well as an arts-based community organizer, Kim fuses her phenomenal artistic talents (as a visual-artist, singer-songwriter, rap-poet-lyricist, and actor) with her passion for social justice. Kim was awarded the Vancouver Mayor's Arts Award in Community-Engaged arts in 2013, and is also the founder of "SHE", an annual East-Vancouver event celebrating BIPOC women in the arts. She has toured her music in Toronto, California, and the Westcoast.
Serene Porter (Mohawk Nation – Wolf clan) from the Six Nations of the Grand River territory in Ontario. An art therapist, visual and mixed media artist, graphic designer, and photographer. She has ten years experience facilitating art workshops on both a community level and within local school boards and has been fortunate to be able to work closely with many First Nations communities on a number of projects that fostered intergenerational participation. Serene is passionate about integrating her role as an art therapist with her passion for her culture, creativity and the freedom of expression.
Amal Rana is a queer Pakistani Poet and Educator. In a time when even exhaling while being Muslim is a crime, she conjures poetry as an act of collective liberation. Her work, which has been published and performed widely, focuses on creating visionary futures for those on the margins. rosewaterpoet.com
Johnny MacRae is a mouthy poet.  He's been both a regional and national poetry slam champion, and was named the Victoria Spoken Word Festival Poet of Honour in 2013.  He's toured widely across the country, performing at readings and slams, as wel as poetry, theatre, and music festivals, and has offered over 250 workshops and performances in schools since 2010.  MacRae also co-directs Hullabaloo, a celebration of BC youth spoken word, and WordPlay, the Vancouver Poetry House's school outreach program.
To find out more on our Reframing Relations program, click here.