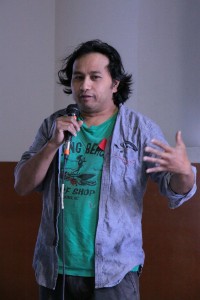 The clear weather this past Wednesday was the perfect backdrop for the June Eco-Arts Salon featuring J Peachy. A small group of about 15 people gathered in the airy Roundhouse Community Centre's Arts and Crafts Room B to hear Peachy, an established Canadian artist, discuss his recent work and his involvement in the upcoming Burrard Inlet Fish Festival. Displayed at the back of the room were examples of his bold landscapes, including Approach (2010), and a tent for the Occupy Wild Salmon movement. Just outside, a bright yellow kayak sat waiting for the group to paint on in the second half of the salon.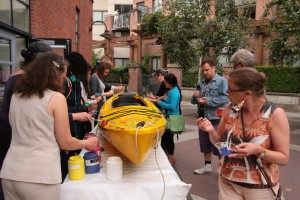 Peachy began his presentation by explaining his main sources of inspiration: nature and personal experiences. And while the audience may not have connected as well to his impromptu stand-up comedy jokes (which he practices on his dog), I'm sure many appreciated his words on the calming effect of art and nature, and how everyone "is entitled to emotions". Peachy touched on his experience with bipolar disorder, describing how, after being diagnosed, he moved from the corporate world to the artistic and started a different journey in helping others with mental health issues through his work in radio with CJSF 90.1 FM's Sound Therapy Radio show. Another one of Peachy's passions is in the protection of BC's wild salmon against the threat of salmon farms. To illustrate some of the problems with salmon farming in BC, he screened the short film Rise of the Salmon People that documented the 2010 Paddle for Wild Salmon. The end of the film led nicely into the second hour of the salon, where the group was invited outside the community centre to paint on the kayak. Using acrylic paints in a multitude of colours, group members added swirls, stripes, fish, and waves to the sides and ends of the boat, all while accompanied by the music of two energetic and talented members of a local band who finished with their original song, Red Soul Blues.
The salon concluded with a group discussion of members' current and upcoming projects and final words on the evening's activities. Peachy's humour, genuine passion, and humble words on his accomplishments made this salon with a Kickass Canadian a truly enjoyable one. Check out J Peachy's website, and make sure to join us at the next Eco-Arts Salon on Wednesday, July 25th!
Author: Bridjet Lee