Hello everyone,
This month of May, we're rolling into the sunny months celebrating both Asian Heritage Month (AHM) and Jewish Heritage Month (JHM) in Canada. This is an opportunity to celebrate the contributions that Asian Canadians and Jewish Canadians have made to our community.
We want to highlight a few events to show our support and solidarity with these communities.  
JQT Heritage Month – JQT Vancouver (pronounced J-Cutie) is a volunteer-run Jewish Queer and Trans non-profit dedicated to "queering" Jewish spaces and "Jew-ifying" Queer spaces. They are hosting events this May including an Artisan Market, Exhibition launch and more! 
During this month, we're also hosting a few CACV-related deadlines including our Vancouver Outsider Arts Festival Call for Artists, Strategic Plan Survey, and Community Arts Fund Call for Applications, which we have linked below. We hope you're able to participate in our upcoming programs!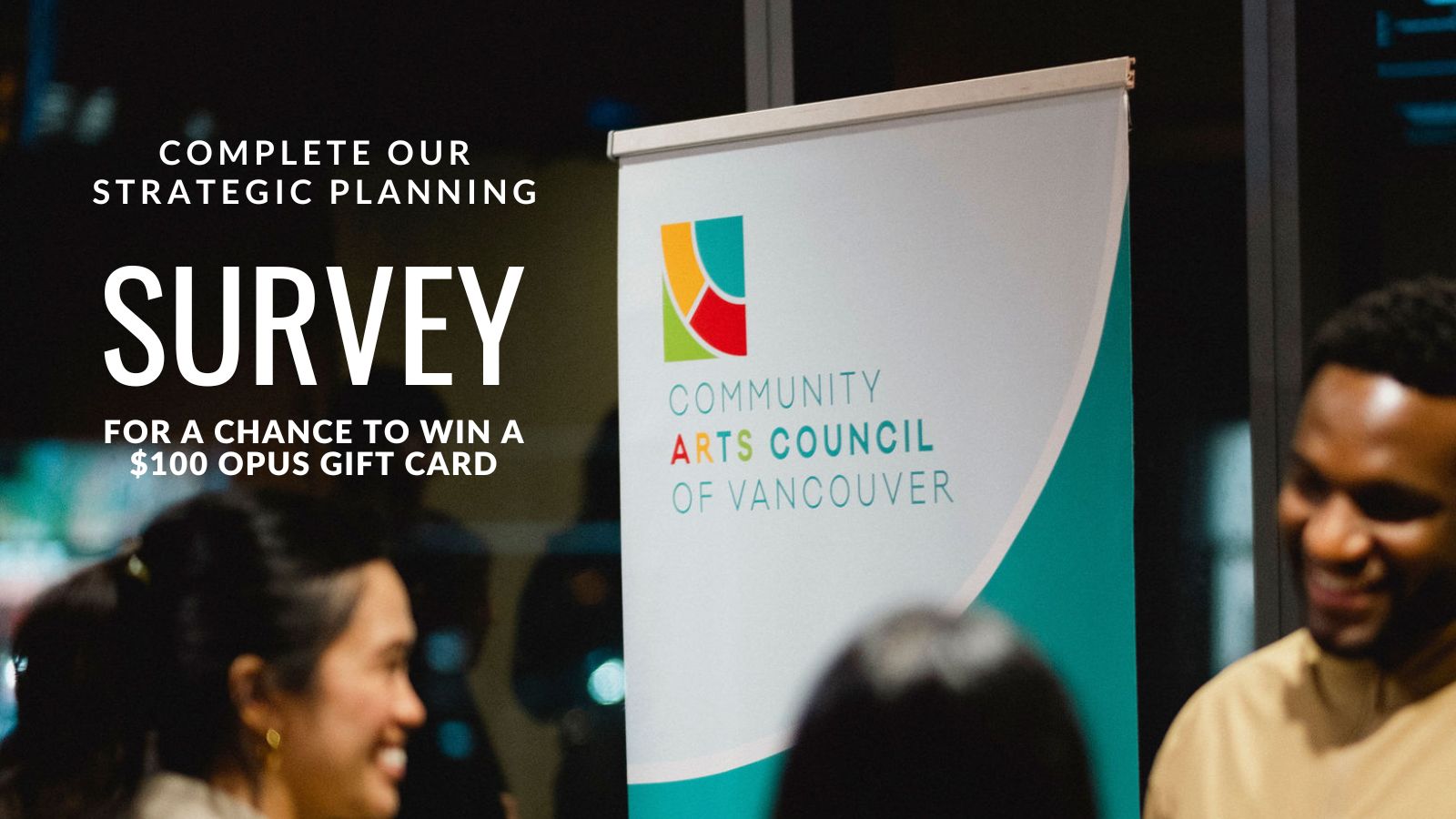 You're invited to help shape our organization and its goals for the next 3-years. This survey is part of our engagement process that will inform our strategic planning. As community artists and supporters of the Community Arts Council of Vancouver, it is crucially important that we hear your voices in this process. In our survey, we want to understand your needs, your feedback, and your innovative ideas for the future.

When you fill out the survey, you'll have a chance to win a $100 Opus Art Supplies gift card! If you want to fill out the survey via telephone or another method, please email us at info@cacv.ca.

The survey closes tomorrow! Complete the survey by Saturday 29, 2023 at 11:59 pm PT.

COMPLETE THE SURVEY HERE: https://tinyurl.com/CACV-survey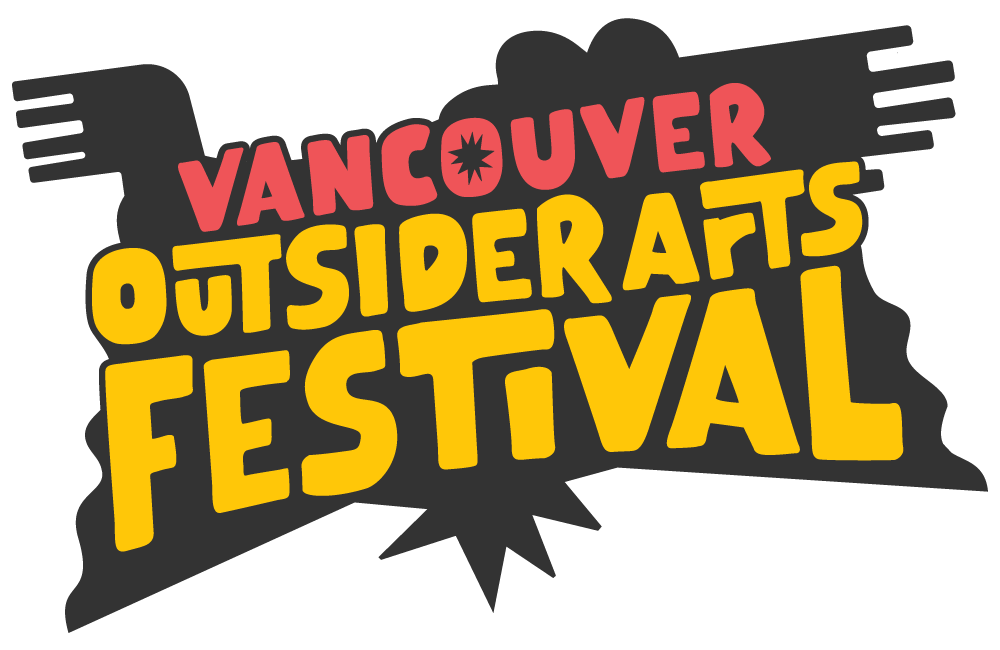 Applications for the 2023 Vancouver Outsider Arts Festival are now open!
This festival celebrates the creativity of Vancouver artists who break the mould. Whether you work in paint, clay, sound, movement, or anything in between, we want to see what makes you an outsider artist. Don't miss your chance to showcase your unique vision and connect with a community of like-minded folks!

Application Deadline: May 15, 2023 at 11:59 pm PT
Dates of Festival: October 12-17, 2023
Accessibility: Our staff will work with each applicant to meet their needs and make their experience at the festival as comfortable as possible. If you would like to request assistance with your application, please reach out at voaf@cacv.ca or 604-682-0010.

Head to our website to learn more and submit your application: https://www.voaf.ca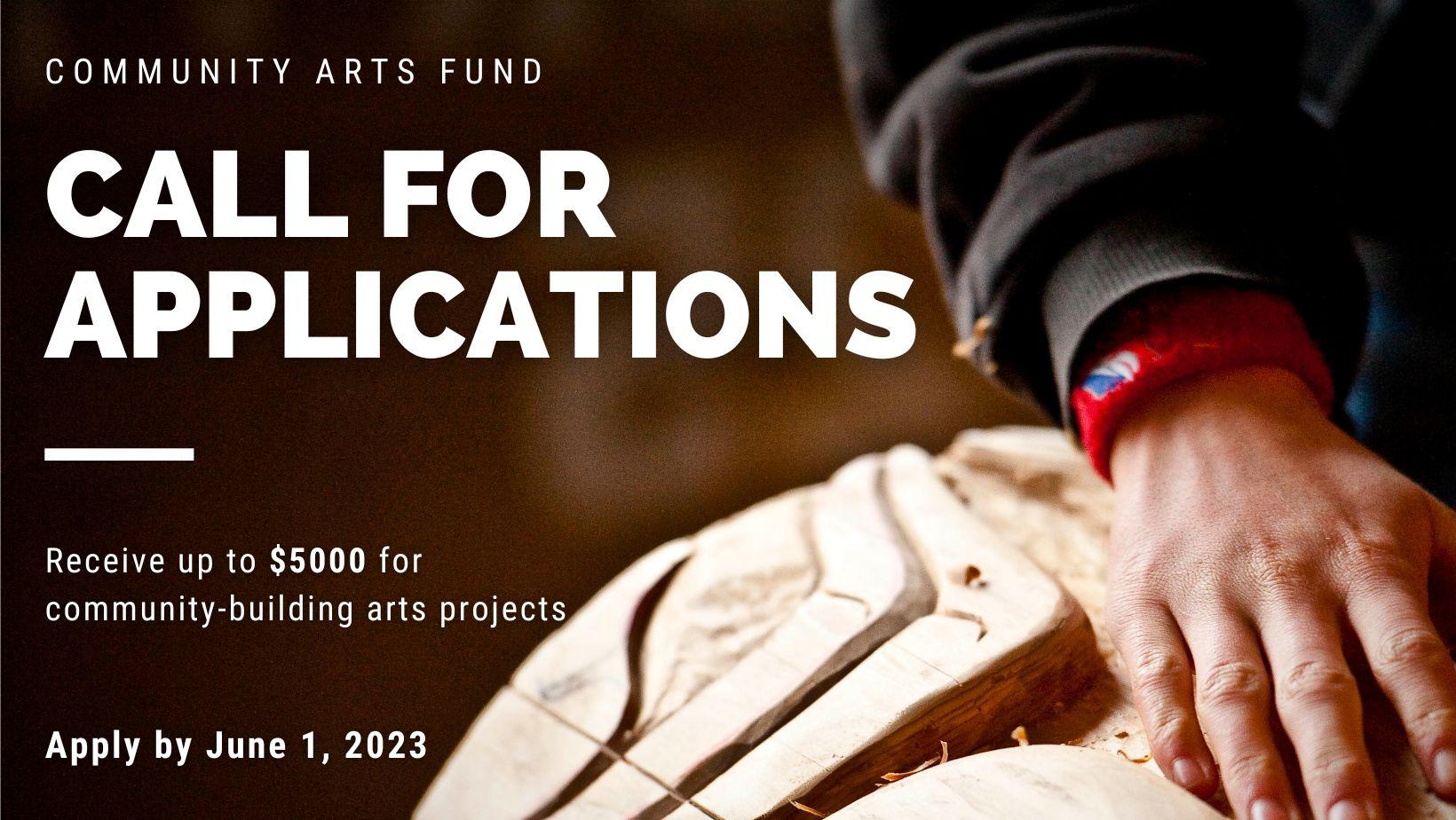 The Community Arts Fund is back and is now accepting applications!
If you have a project idea that benefits the community, we want to hear from you! Our fund provides financial support for a wide range of arts initiatives, including visual arts, music, dance, theatre, and more. Applications will be accepted until June 1 at 11:59 p.m. Visit https://www.cacv.ca/community-arts-fund/ to learn more about The Community Arts Fund and to apply. For assistance with your application, reach out to our team at caf@cacv.ca or 604-682-0010. We can't wait to see your amazing ideas and to help bring them to life!
Community News & Opportunities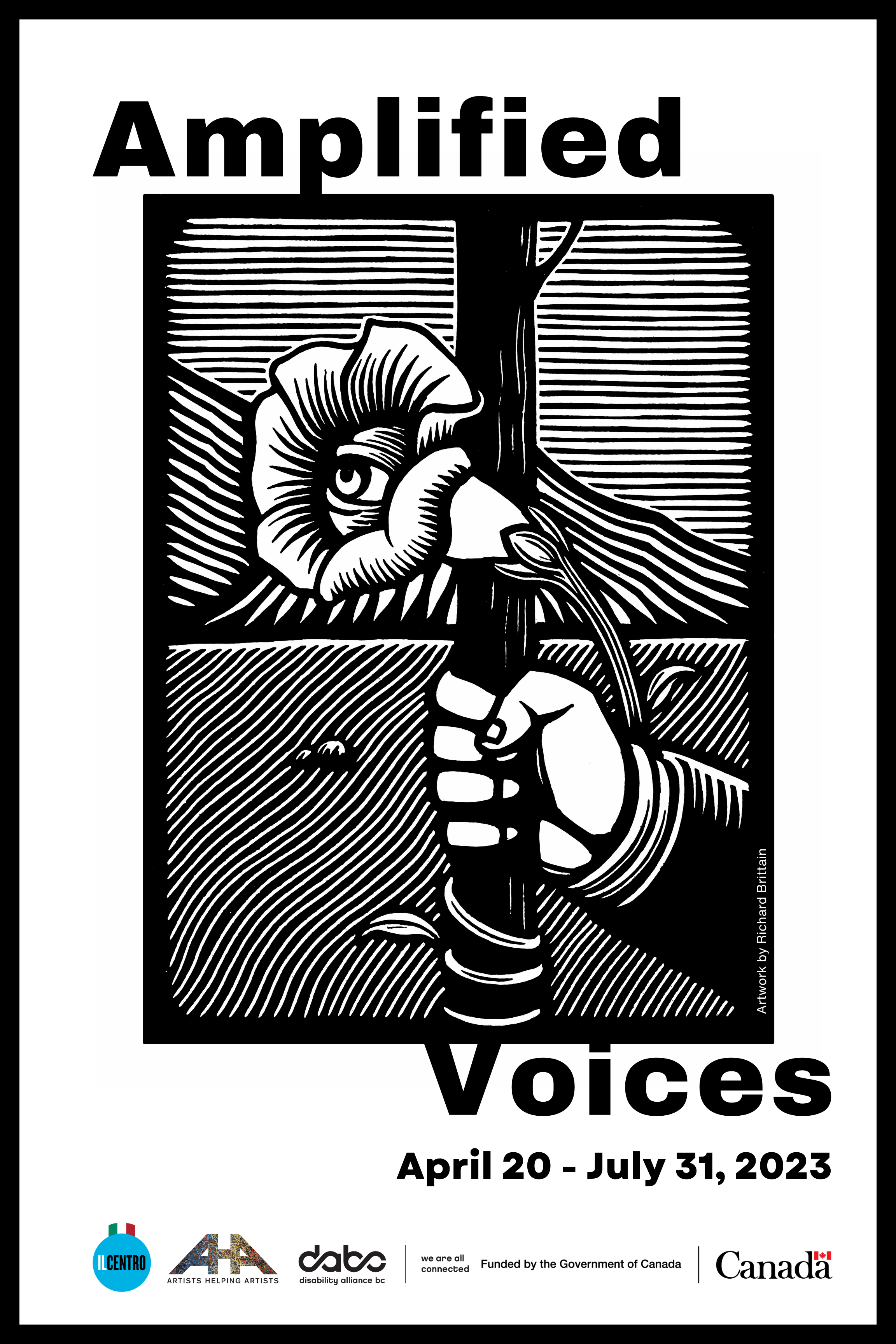 EXHIBITION - Amplified Voices
"Amplified Voices" celebrates the creativity and raw storytelling told by our artists living with disabilities. By questioning the limits to space made for Disability culture, this exhibition navigates the stigma and barriers many artists face. These works challenge conventional ideas and transform traditional art practices into one that is humane, therapeutic, and liberating. Opening Night: Thursday, May 11th from 7-10 pm Duration of Exhibition: April 20 - July 31, 2023
Poetry in the Pub #4
Join the Troupe de Poetry for their upcoming Mother's Day show!

When: Tuesday, May 9
Where: The Port Coquitlam Legion (2675 Shaughnessy Street, entrance at the back)
Time: 5:45-6:45 (doors open at 5:15)
Please bring cash for food and drinks. There will also be swag available for purchase.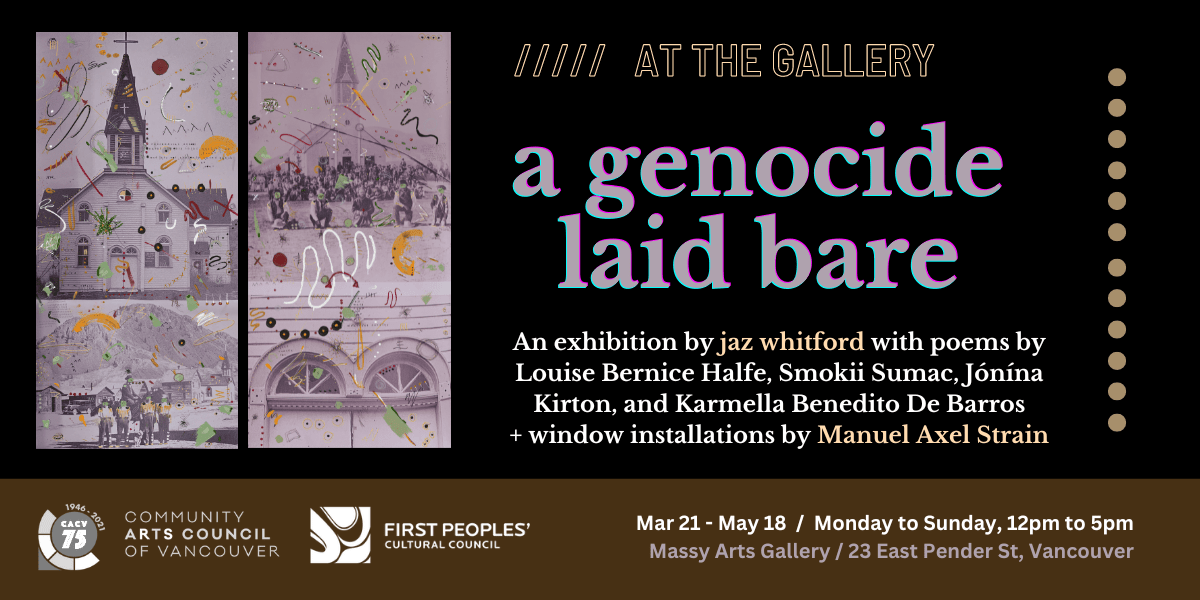 March 21st 2023 – May 18th 2023, Massy Arts will host, a genocide laid bare, a new show by secwe̓pemc & mixed settler interdisciplinary artist jaz whitford that juxtaposes visual artworks with ekphrastic poetry, installed at the gallery as an invitation to discuss heritage, systemic aggressions, and Indigenous history between mediums.
For the show, parsing visual pieces from whitford's work, Indigenous poets created poems exploring themes of genocide, decolonization, identity, land, and resurgence, which are enlarged and exhibited in contrast to whitford's visual universe.
This project is supported by the Community Arts Council of Vancouver + First Peoples' Cultural Council.
Location: 23 East Pender Street in Chinatown, Vancouver.
Hours: The gallery is open Monday to Sunday, 12pm to 5pm.
Entrance is free, and masks are mandatory.
More information at massyarts.com