Friday, December 21 Winter Solstice 2012
White Cube: China Maple Hall 6-10pm (with Carmen Rosen's Tea pot installation and Garden products)
Out with the Dragon/ in with the Snake: Jade Water Pavilion – on display and then we'll process with the lantern.
Video showing the lantern from start (see left) to the finish (on right)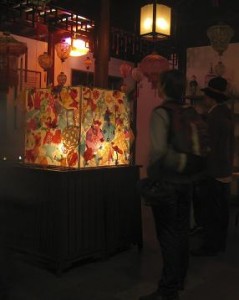 Come join us at the 19th Annual Winter Solstice Lantern Event produced by The Secret Lantern Society.
For the fourth year, our volunteers will be at the Dr. Sun Yat-Sen Gardens with a blank slate for you to contribute to.
We provide a plain white cube and coloured tissue paper and scissors – and you tear or cut and attach your image onto the community lantern.
What: A community lantern
Where: Dr. Sun Yat-Sen Classical Chinese Gardens
Our 2011  eco-arts lantern was a tree-shape made from 6 bamboo poles, strung together. Participants added laurel and magnolia leaves punched into lovely designs.
Here's the 2010 eco-arts lantern of magnolia leaf lantern: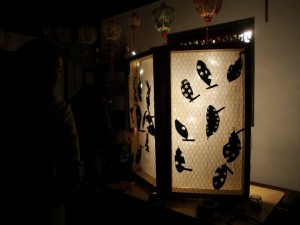 More photos on http://communityarts.ning.com