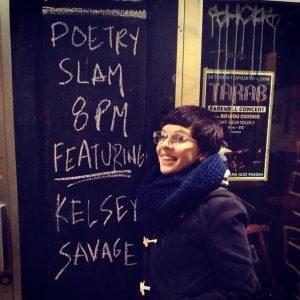 Happy June, Vancouver!
Continuing on the thread of new faces here at the CACV, I will take this opportunity to introduce myself.
My name is Kelsey Savage, and I've taken over for the iridescent Megan Hooge as Communications Coordinator with the Community Arts Council of Vancouver. Megan and I, along with former Executive Director Chris Gilpin, have been connected through the vibrant Vancouver Poetry Slam community for many years. Megan left behind some pretty big shoes to fill with this dynamic position, and I'm continually thrilled at being given the chance to work with this monumental organization. It's been the closest thing to a crash course in Vancouver history I've encountered in my nearly-thirty years in this city.
A bit about me: I'm presently a sapphire-haired poet (presently sapphire-haired, perpetually a poet), and I live here on the unceded territories of the Coast Salish people. I'm a graduate of both the Langara College and UBC Creative Writing Programs, and have had my work featured on the East Van Poetry's Salon's Best Poems of 2016 list, the 2014 CBC Non-Fiction Prize longlist, in the 2014 Vancouver Fringe Festival, and in the 2013 Vancouver Burlesque Longform show at the Rio Theatre.
I began my poetry career in the Cultch's IGNITE! Spoken Word Mentorship program, where I was fortunate enough to be mentored by local multi-dimensional writer Barbara Adler. In the same year, I won a spot on the 2009 Vancouver Youth Slam Team, which kickstarted my lifelong love of the VanSlam family. For the past eight years, I've been a co-host of the Open Mic at the Lyceum, a tucked away event in Kitsilano that prides itself on being intimate and supportive of all artists. In essence, I've managed to take poetry into every corner of Vancouver and found community in doing so. When I'm not writing, I'm a lindy hop swing dancer and sexual health educator with Options for Sexual Health.
I'm excited to be working alongside the wonderful folks here at the CACV, and will keep an eye out for all of you readers on our social media!
Kelsey