By Maziar Ghaderi, storyteller & visual communicator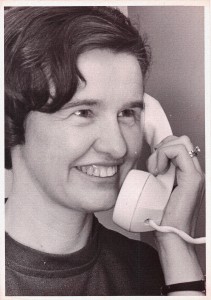 Now I can tell you about how Elizabeth (Betsy) Lane helped bring to life some of the most culture-defining art institutions that Vancouver has ever seen. I could tell you how she was the first chair of the British Columbia Arts Board as well as countless other committees, and has been awarded with an honorary Doctor of Laws from Simon Fraser University.
But of course her uncompromising modesty wouldn't take kindly to that. Plus what would her fellow art-crusaders brag about when asked about their dear friend and colleague, Betsy?
Elizabeth Lane has worked tirelessly to establish the aesthetics and cultural institutions that Vancouver enjoys today. "I think they are terribly important for the enjoyment of life," Elizabeth explains while chatting on a cushioned bench adjacent to a giant metal crab at one of her favourite communal staples, the Museum of Vancouver.
From her medley of passions, civic arts always seemed to bubble to the forefront of her efforts. For her, an address was more than what was scribbled on an envelope. In addition to running well, it was important for a hometown to look good too. Rubbing shoulders with Yankee hotshots, well-established in design and architecture, Elizabeth stirred up the local cultural community to change the face of Vancouver forever. From the first live flower plants in downtown Vancouver to the arrest of "sign jungle" advancements, the Civic Arts Committee made sure that every route would be scenic in our fair Cascadian city by the sea.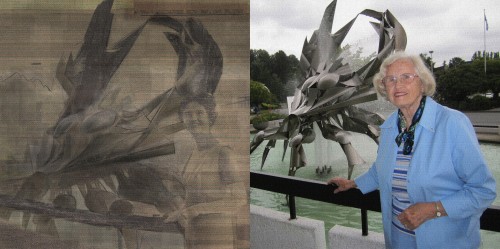 Elizabeth was as hesitant to rave about her feats as she was sticking a label on her favourite forms of art. The time she spent in London spurred on her love of theatre, and having studied ballet in her youth, dance has always caught her attention.
When not chasing her grandkids throughout the house, she has always had an interest in promoting arts in the education field. "Good art captures the imagination and makes some contribution to the field so as to expand horizons for the next generation."
"It's been more difficult in North America than in Europe to value the arts because Europe has a stronger tradition in supporting the arts. The North American attitude is that of a young country. We've been looking at developing industry and it's made arts less important. It's changing, but slowly," says Lane.
"It's still a difficult sell, and you ask why? Well, I think it comes from our education system because it's the people that have been exposed to the arts that give support later in life."
When asked about the road ahead, Elizabeth admires the community-focused approach taken by the Arts Council despite their fiscal challenges.
Fuelled by her love of the arts, Elizabeth Lane has been involved in art advocacy on a national, international and provincial level. And fitting of her modesty, this vibrant woman attests her success to lady luck.