So, you may have missed the show because, apparently, I now discover that it is necessary to click on the 'publish' button, or something.  Whatever it is did not get done.  More apologies.
The exhibit is still up at Gallery Gachet, and will continue until Sunday 3 June; the actual event was an exceedingly wonderful part, with masses of good food, good entertainment, good people vibes.
Maybe next time.
Karenza
Hey y'all,
My apologies for not posting this earlier, I have not got into the swing of things here in the DTES CACV blog.
But, better late than never? Will you buy that?
Walking into Gallery Gachet you will be greeted by this beautiful face, the creation of Chris von Szombathy, one of the artists to get a grant from the Vancouver Foundation's Small Arts Grants.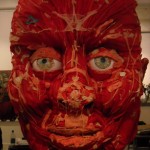 Anyway, here it is, the Opening Celebration of the DTES Small Arts Group Show. Opening on Friday, 25th May 2012, from 5 to 8 pm at the Gallery Gachet, 88 East Cordova Street. http://gachet.org/
The program begins at 5:30 and 49 Downtown Eastside artisan/artists show their stuff in an amazing line-up of talent. From painters to quilt style wall hangings, from realism to surrealism, to feast your eyes. From playwrights to poets, from opera to the blues, musicians to soothe the savage beast…………… okay, sorry, I do tend to get carried away.
And, judging from last year's exhibit, the food is going to be totally awesome. I sure do hope they have the samosas they had last year Quin and I stood guard at the samosa tray, there was one samosa left and we looked at each other and he said, as far as I can remember, that he was going to race or fight me for that last samosa. My response, from past behaviour, was to pick it up and lick it. Game over. Mind you, this version of events may have a different spin when you talk with Quin.
See you at the gallery,
Karenza
Presented by Vancouver Foundation & Carnegie Community Center
Sponsors – Carnegie Community Center, Gallery Gachet, Vancity, Vancouver Foundation
Curated by Jason Bouchard, Lara Fitzgerald & Murray Huehn.
Installed by the artists/artisans with help of numerous volunteers.
Thanks from the DTES.