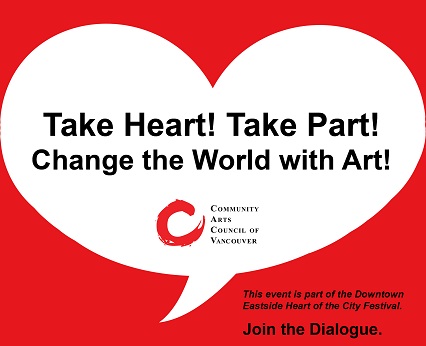 Community Arts Dialogue – October, 2012
Take Heart! Take Part! Change the World with Art!
The Community Arts Council of Vancouver invites you to come and join the conversation about Community Arts in Vancouver.
Agenda:
12:30pm          Doors open              Coffee available
1:00                 Welcome –      Will start promptly
Gift Circle explanation and invitation – Mary
1:05                 Poetry readings
1:20                 Theme – Francis
Agenda – Amanda
1:30 – 2:00      Evi: introduces Carolyn Wong and Hope in Shadows Photographers: Amy Wilson (cover photo), Joe Thompson, Brenda Grealis and Mike McNeeley – https://www.cacv.ca/dtes-photographers
2:00-2:40         Dialogue – small groups
One Artist recorder volunteer with each group: (Diana, Amanda, Tatyana, Francis, Evi) – Amanda introduces
2:40 – 3:00    Gift Circle – Mary
3:00 – 3:40      Summary from small groups and Q&A with presenters – Francis
3:40- 3:50        DTES Community Arts Programs – Board Members
3:50-4:00         Wrap-up/ Thank you's, Make sure you have a heart!
Thank you to presenters, facilitators and supporters/funders
BC Arts Council, Province of BC (Gaming), UBC Learning Exchange
Location: UBC Learning Exchange  612 Main Street
Next Dialogue: November 30 @ Emily Carr University.
Most of the session will be participative aimed at artists and supporters sharing their thoughts.
LOCATION: UBC LEARNING EXCHANGE 612 MAIN STREET
FREE – please register
Thank you to UBC Learning Exchange for providing space and support for our community arts dialogues.
Thank you to BC Arts Council for operating assistance and to the Vancouver Foundation and the Province of British Columbia for funding for our Downtown Eastside Community Arts Program.
This event is part of the Downtown Eastside Heart of the City Festival.