We regularly host Conversations about Community Arts to provide community-engaged artists and participants the opportunity to gather together, share their projects, insights and concerns.
The next session will be at Langara College as part of their Summer School on building sustainable communities.
Register through Langara using Course Reference # 60841
The ABC's of ABCD (Arts-Based Community Development)

What does "community art" mean and what's needed to have it continue to flourish in Vancouver? In late 2011, the Community Arts Council conducted a survey to ask those questions. This session will be an opportunity to discuss the results of the survey, contribute to our analysis and dialogue about where we go from here to have community-engaged arts continue to flourish in Vancouver.
Learning Outcomes: The participant who successfully completes this learning activity should be able to:
Give your own definition of "community art"
List at least three important aspects of community art
Identify one resource needed for community arts to flourish in Vancouver
Explain the importance of community art in your own words
Brief Outline
Gathering activity: create a name tag
Welcome and Introductions
Presentation: What is Arts-Based Community Development? The role of the Community Arts Council of Vancouver in community arts
The 2011 survey results: what we heard about defining "community arts" and the resources needed for community arts to flourish in Vancouver
Small group art activity:
Create a visual representation of the state of community arts in Vancouver
Short break
Dialogue: What are the most important aspects of community-engaged art?
Action planning in small groups: What resources are needed and how can we find or create them?
Wrap-up: Suggestions for next steps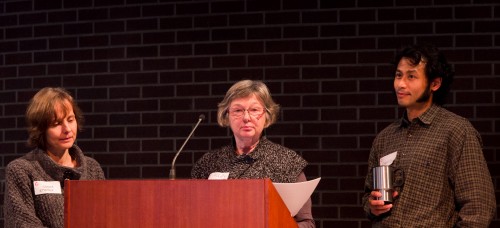 Facilitators
Mary Bennett is the Administrator for the Community Arts Council of Vancouver.  Since 2008, she has worked with the board to re-build the organization which now has over 50 volunteers, and a dramatic increase in activities and partnerships, and 6000 facebook fans and 2000 twitter followers. Mary is a practising visual artist.
Sonja Embree holds a PhD in Humanistic Psychology. Her work experience includes teaching, scholarly publishing, research, grant writing, staff development, and operations management in higher education.  Sonja is the Vice-President of the Community Arts Council of Vancouver. Sonja was a key participant in designing, conducting and analyzing the survey.
David Lee is a business consultant who has developed and led programs within and across the private, public and non-profit sectors in Canada and Australia. His focus has been in local economic development, cross-sector stakeholder engagement and capacity-building of arts organizations and other non-profits, primarily in the Downtown Eastside. David chaired the Member Outreach Committee which coordinated the survey.
Place: Langara College  Room A218
Date: July 12, 2012
Time: 6:30-9pm