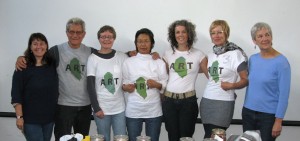 Art(IS)Land Exhibition on Granville Island
Sept 8-19 2011
by Robin Ripley
If you were visiting Granville Island in September perhaps you noticed a giant sewer pipe inscribed with text, foliage fish swimming through the trees, or a fluorescent clam line. These were just three of the eleven temporary installations created by members of   Art is Land Network (AILN).
AILN is a local artist collective whose shared connection is the use of natural and repurposed materials to engage with the landscape. The participating AILN artists were Nicole Dextras, Sharon Kallis, Pierre Leichner, Fae Logie, Tiki Mulvihill, Haruko Okano, Robin Ripley, Shirley Wiebe.
The exhibition theme was Granville Island as "microcosm of the world". Each artist used different strategies and materials to engage with the community and draw attention to the island's diverse activities and its inhabitants, both past and present.  Information on the exhibition and a self-guided map were available through the AILN website and the Fringe Festival program guide.
Project partners included Vancouver Park Board, Fringe Festival, Community Arts Council of Vancouver and Granville Island.
Four artist-led walking tours provided information about the artists and their work, as well as a history of the island. The tours attracted 94 participants and feedback indicated they were well appreciated. Workshops, a blogsite, and on site participation were other aspects of the Art(IS )Land exhibit. 
For more details and images   http://artislandnetwork.com/