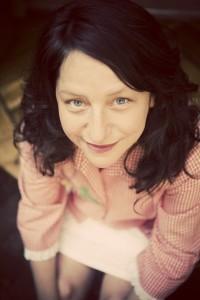 Sharon Kravitz is a documentary filmmaker, community organizer, and educator who began her time with the Community Arts Council of Vancouver around 2001 as a Board Member and also served as President. With her, she brought 17 years of experience in organizing large-scale events, community public art projects, and arts and health programs in Vancouver's Downtown Eastside. She has also worked with children at the Strathcona Community Centre for several years doing Nature Walks where she taught about plant identification and herbal first aid.
Sharon had worked with Susan Gordon in the Downtown Eastside prior to her arrival at CACV. Susan had recruited Sharon to join the board, as she was preparing for her own departure shortly thereafter. When Sharon joined CACV, there were about eight board members. However, several were leaving the council as many believed the organization was not going to survive— and some thought it was not worth saving.
At the time, Sharon was fascinated by the work of Dr. Bruce Alexander, a professor at Simon Fraser University. Dr. Alexander talked about "the connection between loss of culture and addiction, and loss of community… and not being well socialized." Sharon described these ideas as being relevant to, "health and wellness through a community cultural development model—" an approach that she believed CACV could promote.
The council was also undergoing several other shifts at the time.
While one piece of CACV's mandate was funding projects, there was also recommendation for CACV to become a network for community artists, as well as a convenor, supporter and advocate of art, Sharon explained.
Further, there was a push to evolve the notion of what it meant to be an artist. The traditional idea of an artist did not incorporate community nor outsider artists. Sharon noted that it was CACVs responsibility to respond to the community and she describes herself as a "firm believer… that the artist's role is also very much a community role."
Sharon recalled the important role that the British Columbia Arts Council (BCAC) played in CACVs revamp. She said, "that encouragement from the BC Arts Council made so much difference, you know… just the moral support from them for us to be an organization again." She also noted that BCAC provided funding for a project called The Means of Production, as way to help CACV revive itself.
Aside from achieving organizational stability, one of Sharon's greatest successes at CACV was an event called Addiction in Vancouver, which she organized with Leslie Kemp. Held at the Chief Dan George Centre, artists came and musicians performed, and there were several group discussions which Kate Sutherland helped facilitate. Leonard George from the Tsleil-Waututh First Nation also spoke at the event. Sharon stated that as Dr. Alexander would say, "the addiction is as much about the community around the addiction as it is about the drugs." She remembered attendees sharing that they hadn't thought about using drugs during their time at the event. Sharon reminds us that while one event isn't a panacea, facilitating community connection is still helpful.
During her time with the council, Sharon had hoped to see CACV practice a cooperative, guild-type approach to its work. She had wanted to see networks of support for different types of artists, such as graffiti artists, crafters, beaders, and so on, where CACV could help source their materials. Others did not take an interest in this model and wanted to see a more traditional charitable model where grants were provided on a project by project basis, which is the approach CACV continues to take today.
When imagining CACVs future, Sharon hopes that the council is responsive to the COVID-19 and post-COVID-19 world. "I think collectively, we've been changed," Sharon said. She thought about how musicians and families were going online during the pandemic lockdowns to help cheer people up and she asked, "How do we give space to voice that change?"