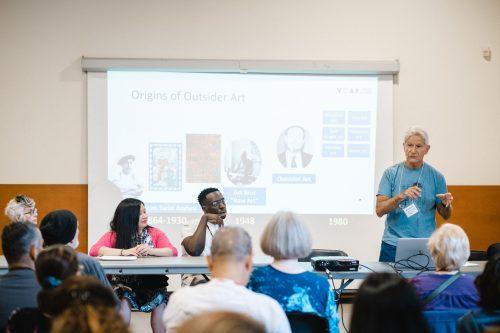 Pierre Leichner is currently a member-at-large at the Community Arts Council of Vancouver, but his dedication to the council spans much longer as he has been a board member for over a decade. Pierre's attraction to environmental arts is longstanding, going back to his time as an undergraduate student focusing on various environmental issues, food production, and food overconsumption. He had wanted to organize an environmental art working group when he discovered CACV's eco-art salons. Shortly after volunteering for the council's eco-art committee, he became a board member under the suggestion of Mary Bennett. Pierre previously worked as a psychiatrist but has found his way to becoming a full-time interdisciplinary artist with a socially engaged practice, primarily focused on environmental and mental health issues. Pierre also shares his extensive experience in community arts as a member of the Gallery Gachet and the Art is Land Network (AILN), and as a board member of the Emily Carr University Alumni Board.
Pierre and the board organized the first Outsider Art event called Who's afraid of outsider arts? Around this time, there was a feeling amongst the board that the CACV's structure needed a shift; Chris Gilpin was hired as the Executive Director shortly thereafter. There was also an intended shift to spread the CACV's work across Vancouver, in addition to its' central focus on the Downtown Eastside. Thus, the festival was held at the Roundhouse Community Arts & Recreation Centre, where the CACV's endeavour received much support. Pierre described the Vancouver Outsider Arts Festival, and everything related to it as, "the thing that makes [his] heart sing."
Pierre worked with B. Miller to try to launch a project along the Arbutus Greenway that would have different environmental community installations. They had wanted each community along the Greenway to do engaged projects. Unfortunately, this initiative did not get funded but is an example of how Vancouver's several communities can be involved as artists while the council handles funding.
While the eco-arts salons were put on the back burner for some time as CACV reorganized its' priorities, Pierre is hopeful for the council to revisit eco-art as a major component of its' work. Pierre shared, "my fantasy had been that there'd be an area, a park, or a garden somewhere in Vancouver that would be dedicated to environmental arts practice." To bring forward environmental arts at CACV, Pierre says the council should start with small projects and if they signal success, grow them—like the Outsider Arts Festival. Pierre knows that environmental art can be "confrontational," and "critical," of things like pollution and plastic. However, he emphasizes that environmental art, "can also just be in the beauty of nature and having beautiful things made out of twigs."
In addition to fortifying the place of environmental arts on the map, Pierre also hopes to see the Community Arts Fund reawakened and the Reframing Relationships program continue to thrive.
Pierre sees art as undervalued in society and culture. He believes art must become a larger part of people's lives in ways that transcend entertainment and incorporates participatory arts, so people are empowered to, "engage, and make things." Pierre affirms that art is, "good for the well-being," and "good for the soul," and in these ways art is part of CACV.