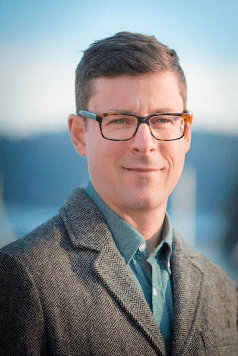 Eric Miller served as the Community Arts Council Executive Director from 2017 to mid-2021. He came into the role with an already long list of contributions to the arts community. For over 25 years, he was a performer, teacher, director, producer, theatre maker, and nonprofit administrator in both Canada and the United States. Prior to becoming CACV's Executive Director, he was the Artistic producer at The Only Animal Theatre Company. In addition to leading youth theatre programs at The Cultch, he also co-mentored and produced Generation Hot with Vancouver Fringe. Eric's practice lies at the intersection of people, place, and story.
When we sat down with Eric, he told us about the beginning of his story with CACV— his interviews for the Executive Director position. His ferry was canceled due to the weather conditions so he chartered a water taxi on a stormy day with no other boats on the water. Luckily he made it to the interview— where he landed the role.
While Eric was in "learning mode" for the first couple years, he knew he wanted to advocate for both visual and performing arts. CACV's recent history had a strong visual arts orientation but coming from a performing arts program, Eric wanted to bring this area to light.
Eric took the reins from Chris Gilpin, who already spearheaded a new strategic plan with the direction of growing programs across the city. There was intent to continue the recently piloted Reframing Relations program and launch an Outsider Arts Festival. "I had a pretty clear mandate… so I definitely felt like the plate was full enough and there was plenty to work on," Eric said.
Eric is still excited about working on the Vancouver Outsider Arts Festival launch. Eric explained that, "[CACV] created a really unique kind of setting where people felt supported and seen and cared for through the application process, the selection process, and through to the festival." He shared that, "those Friday nights… in that beautiful space in the big main hall of the Roundhouse are some of [his] happiest memories," especially because of the volunteers who helped out every year and the dedicated artists who participated despite having to overcome all sorts of barriers.
The Reframing Relations program consisted of an Indigenous artist and a settler artist "enacting a relationship." Eric saw that it was best operated through self-management. He stated, "the program manager, artists, and facilitators were all so strong in terms of being artists and community organizers and just fierce people that I didn't want to get in the way of it." So, he tried to support the program by keeping the funds flowing and being there for the team.
Reflecting further on the Reframing Relations program, he knows this program is about getting people to think and to question, and to unsettle. Eric pointed out how timely this program's debut was because of the specific challenges Indigenous communities in BC were encountering. He also noted the political risk CACV took by administering this program; he is glad that they have managed to sustain it nonetheless, and hopes to see it flourish further.
Eric and Johnny Trinh (former Program Manager), who were close colleagues, worked with the board to take risks and avoid outdated ideas of how community arts councils should operate. They focused on, "new ways of working and new ways of being an organization."
Eric believes that the future of CACV rests in the reoccurring question of why CACV should exist at all. He emphasizes that understanding the current role that CACV can play and why, is paramount to preserve its' relevance and vitality. Which gaps shall the CACV tackle? Who is CACV for? What approach to community arts shall CACV take? Answers to these questions must constantly be reevaluated. Eric believes that CACV needs to be responsive to current affairs and think of, "what is needed and what has not yet been thought possible."
At the end of our interview with Eric, he left us with this: I wish that CACV continues to find its purpose and refine its sense of purpose in a way that is shared… that is meaningful and inspiring. In a way that attracts people, and dollars, and other organizations and partnerships to join in. And that is open to what a need might be and that [CACV] might be able to find a creative way to support.